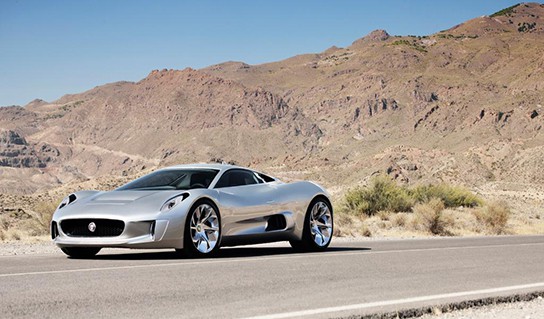 (image credit: Jaguar) Jaguar C-X75 hybrid concept | US$tbc(concept) | www.jaguar.com
celebrating its 75th anniversary, Jaguar introduces the world of its next generation hybrid concept. beyond its alluring exterior, this concept is packed with technologies of tomorrow. it is not just a concept but an idea that will certainly have the rest in the automotive industry pursuing in near future.
[ad#Google Adsense-text-468×60]
when hybrid is mentioned, it would meant electric-petrol vehicle but not anymore. this concept just changed the concept of the term 'hybrid'. the X-X75 is in fact a electric-micro jet engine hybrid. yes, you heard right. there are a pair of micro turbine in this car. on the electrical front, the C-X75 is driven by four 145 kW (195 bhp) electric motors, one on each axle, effectively giving it a total of 580kW (780bhp) of pure electric power and an incredible 1600Nm of metal-twisting torque.
up to today, electric super cars are plagued by limited range but Jaguar got rid of that plague. while the C-X75 electric-powered range of 68 miles (110 km) doesn't seem like much, the micro jet engines in it is capable of providing an impressive extended range of up to 560 miles (900 km). hence, the term Range Extended Electric Vehicle. each of the two multi-flow compression turbines weighs in at just 55lbs (25kg) and produces 70kW (94bhp) of power, giving the car an extra 140kW (188bhp) of oomph.
with such a specs, you will be dying for some numbers to go with it. the C-X75 has a top speed of 205mph (330km/h) and it can get from rest to 100km/h in just 3.4 seconds and another 2.1 seconds to reach 160km/h. want to go faster? it will take another 10.2 seconds for it to get from 160km/h to 300km/h. quarter mile is said to be just 10.2 seconds @ 251 km/h. that's one hell of a car.
in the interior, the instruments and steering comes to driver without the need to adjust the driver seat, creating a very driver-centric design. the C-X75 is litter with phosphor blue lights that adjust its brightness according to the situation. as the driver approaches, the interior lights up, filling the interior with cool phosphor lights which reminisces of the TRON Legacy. once the driver is inside, the lights shift into a softer lighting mode.
micro jet engine could be the future for automotive, together with electric power. and that could means range limitation of electric vehicle could a thing of the past. i am pleasantly surprised by the use of micro jet engine adapted for automobile but at the same time, skeptical (just a little cos' i am a cynic, remember?). wouldn't the noise generated by the turbines be too much for our ears? nevertheless, we will wait in anticipation for this concept to come true.