heat-induced fatigue is one of the most common injury inflicting sportsmen in warmer climates. to counter this, Adidas has developed the pioneering adiPower pre-cooling vest and sleeves which will be worn by players from nine Adidas federations, namely Germany, Spain, Argentina and Colombia, during the 2014 FIFA World Cup Brazil. by bringing down the body temperatures in climates of 24 degrees Celsius or higher (75.2 Fahrenheit), it will help in delaying the onset of heat-induced fatigue, Adidas said. the special and decidedly high-tech vest will be worn by players during warming up and also during half time intervals. the vest was also used by the players at their pre-tournament training camps prior to the start of the World Cup on June 12.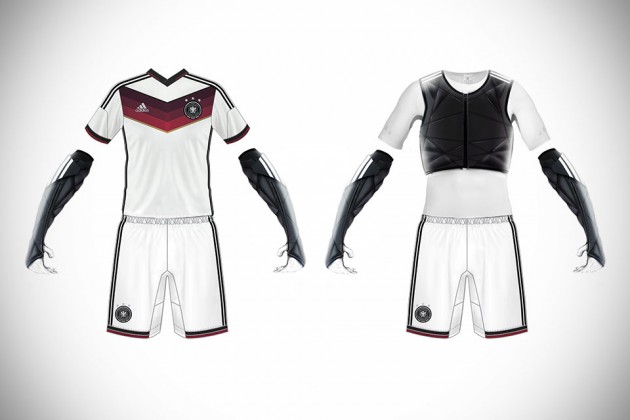 the vest and sleeve are essentially oversized ice packs, and consists of hyper absorbent granule zones at targeted areas, including lower arms and upper back, which according to study, are the sportsmen's primary cooling areas. the vest and sleeves are designed to keep cool without direct contact with the ice which sounds fairly simple, but there is a catch though. there is no electronic wizardry involved; this vest is mostly about material science and so getting these vests and/or sleeves to be in their cool state and ready for the players requires them to be stored in a freezer around 15 to 20 minutes. from the visuals, the vest and sleeves combo looks like a vision of soccer player of the future, which is looks pretty cool (pun not intended) in our books.
the Adidas adiPower Pre-cooling Vest and Sleeves will also be used by some of the teams at the upcoming friendly matches in the USA. if you still haven't got a clue, the Adidas adiPower Pre-cooling Vest and Sleeves are not available commercially, well, at least not for now.