iPhone, with the right accessories and apps, is quite a capable piece of hardware. it can assist you in doing a myriad of things including whipping up a good healthy meal, help you grill the perfect meat, check on your blood pressure – just to name a few and now, you can add astronomy to the list too, well, sort of. the aptly named Astronomical Telescope For iPhone 5 is the rig you will want to have if you love gazing at the stars without having to stick one eye to an eyepiece. obviously, this is not a pro, pro-grade equipment, but despite that, it is still capable astronomy equipment capable of 100X magnifications which you, your families and friends can view together off the iPhone 5/5s' 4-inch display and on top that, you will be able to capture those breathtaking celestial views too. according to Thanko, at 100X magnification is enough for you to see the craters on the moon.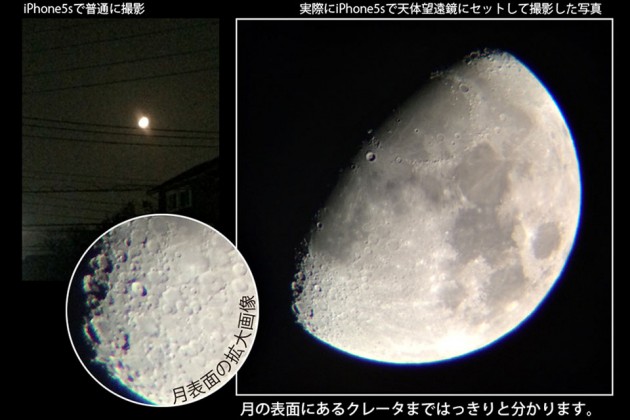 there is nothing quite magical here; the Astronomical Telescope is basically a regular astronomy telescope with a special attachment for affixing your iPhone 5 or 5s to the telescope, thus allowing you to observe and capture still of the stars which would otherwise be a dream for average joes. the package comes complete with a tripod stand for the scope, a pair of ocular lenses and two erecting lens (damn, must they call them that?). all these are packed into a hard plastic carry case with integrated handle worthy of any pro-astronomer wannabes. additionally, since it is a regular telescope, you can also use it without the iPhone if so desired, but why would you want to do that anyway? tiny optics versus a 4-inch display. the choice is obvious, isn't it? the lenses that come bundled with the kit also have other real world use other than as an aid for star gazing; it can also be mounted to the special attachment case with your iPhone to take real world zoomed images too. so when you are done staring into the abyss of the universal out there, you can also zoom your attention to the lovely Earth.
the Astronomical Telescope For iPhone 5 (and 5s, of course) is available for pre-order from Japan Trend Shop for a not so astronomical sum of $382, but do note that shipping will set you back at another 89 bucks cos' this baby is fairly heavy. we have seen other stores peddling this at a cheaper rate, but san the additional lenses. so the choice is yours to make now that you know its existence.