You know AT-AT from the Star Wars franchise stands for All Terrain Armored Transport, but do you know what AT-BT stands for? I got you there, right? AT-BT is not from Star Wars and it stands for All Terrain Beats Transport which is basically a boombox, shaped in the likeness of the iconic walking armored vehicle from Star Wars. Hand built by California-based Etsy seller Caleb Paullus, this AT-AT, well, I mean AT-BT dishes out music instead of phew phew laser and likely do not carry any miniature Stormtroopers in its 22 inches long body. It is signed though, presumably by Caleb, on the inside hatch on the back. It comes outfitted with four unspecified loudspeakers (stated as 2 large and 2 small) which produces a total of 20W of sonic when on AC supply or 5W on DC and a built-in rechargeable lithium battery good for up to 8 hours of playback.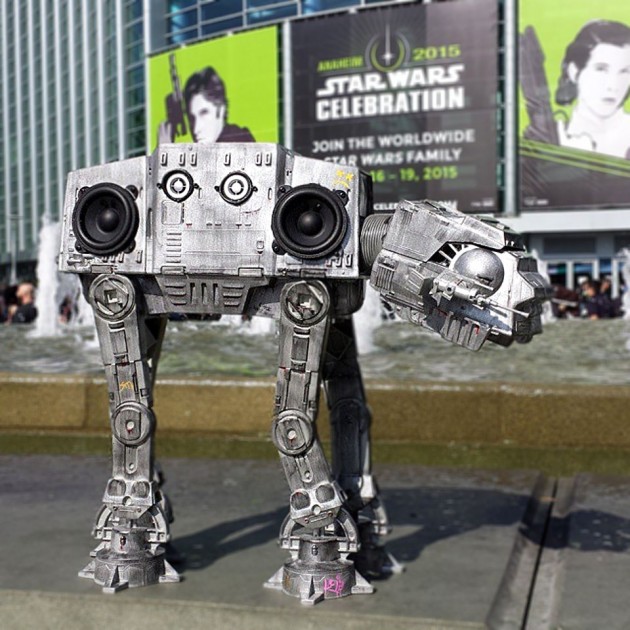 AC adapter is supplied and source input is through a lone auxiliary 3.5mm input jack. It is offered in several color options, but we think Metallic Silver will look the part than others like Metallic Gold, Bronze, Black, Pink, Red and Blue. Based model will run you back at $500. Throw in another $200 for upgraded options like dual 250 watt speakers, rechargeable lithium battery that now runs 4 hours only, a DC adapter, the same auxiliary input, Bluetooth connectivity, NFC, as well as LED lighting. If you prefer not to drop 200 bucks for the aforementioned and wants to go a la carte, you can too, albeit limited to LED lighting for 50 bucks and Bluetooth module for another 25.
Pretty cool speaker if you want to stand out in the park when you breakdance away in Stormtrooper outfit, but we can imagine it would be a hassle to transport this Imperial speaker around. It is scaled model but sizeable, nonetheless.
via The Fancy