Last week, the four-ring emblem automaker unveiled a ride that aims to show off the company's new design direction and boy was it a stunner. While the overall still remains very Audi-ish, it does inject a breath of fresh air to the current stable. The focus is on the design, there are some pretty cool techie stuff baked into this potential S-Class coupe killer, but then again, as the showcar's model name implies, it is merely a prologue to what are to come from Audi. Sporting a flowing design that starts with a chiseled front and smooths out to the rear, the Prologue is both elegant and sporty – a formula which luxury brands have been adhering up to this day. It looks stretched, but it is in fact shorter and flatter than the current A8, measuring 16.7 feet long (5.1 meters), 6.4 feet across (1.95 meters), and is just 4.6 feet tall (1.39 meters).
Sitting in between the high-resolution Matrix laser headlights is a Singleframe grille, featuring chrome cross bars bathe in finely structured diamond pattern, that is wider and positioned lower than today's production models. On either and under the headlights are distinctive air intakes with diamond pattern screens, consistent with the grille design, but only 'coarser'. And then there is the dynamically contoured blade which is separated from the bumper by a gap, and wrapping up with a pair of gloss black front spoilers. While we are drawn to the front fascia, we can't help to detect a tint of Transformers in it, but of course, there's no relation between the Prologue and the fictional organic transforming robots.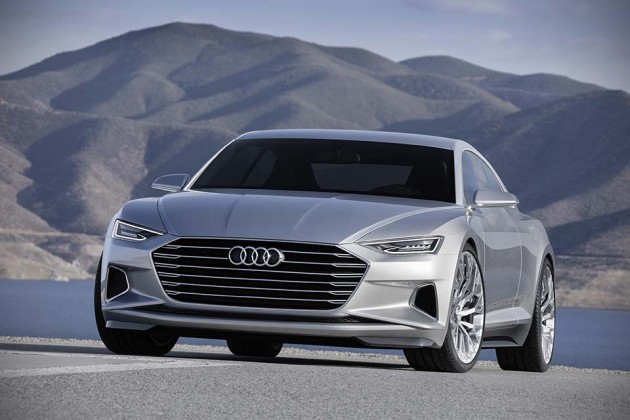 The sleek styling continues rearward, on the way, it is met by a sculpted hood, more chiseled lines, and widely flared wheel arches, where a set of enormous 22-inch wheels, shod in 285/30 rubbers, call home. The wheels are in itself, unique too, featuring ten intertwining Y spokes which Audi says project a "filigreed, three-dimensional and powerful image." We're not sure what that means, but we like it anyway. It may be just us, but we thought the rear looks suspiciously like the current production car, especially the A8, but a lot flatter, giving it a sleeker and sportier feel. The rear is also home to LED lights with 3D glass that runs across the entire width of the vehicle, and a glossy black diffuser, flanked by two trapezoid-shaped opening that houses the exhaust tailpipes.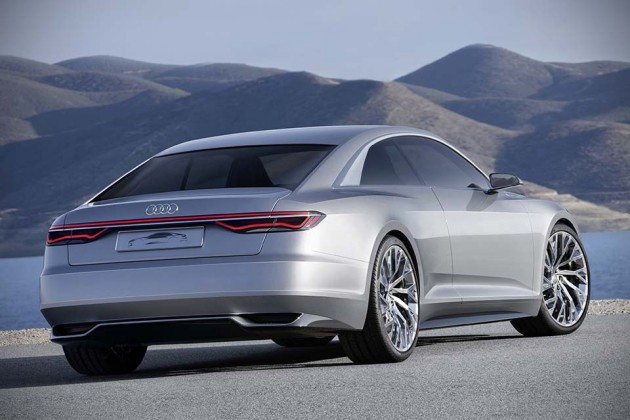 Interestingly, there are no door handles. Instead, the Prologue's doors will open electromechanically when the illuminated sensor surfaces are touched and apparently, the it also has a fuel tank lid that operates via electric opening mechanism and can be lowered completed into the C–pillar by activating the button from the inside. Speaking of inside, the Prologue boasts a spacious cabin that promised both sporty driving and relaxed touring – again, a formula employed by today's luxury sport cars. However, we thought the interior though looks futuristic, has a slight tint of retro feel in it. Can't put a finger to it, but maybe it is the colorway that makes it feel so.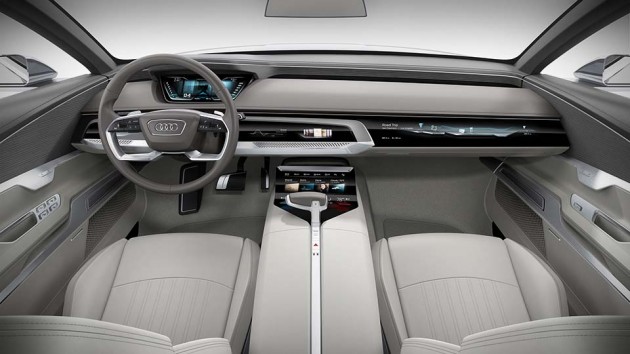 The cabin also touts a "butler" feature, which identifies the driver by their smartphones and adjusts the seats, climate control system, make music recommendations, and even plan the route based on the driver's preferences. It also boasts an Easy Slot system, which is a phone box, located under the lids in the center console, that networks the smartphones of passengers to the vehicle's infortainment system and even charges the devices. But just exactly how this Easy Slot works out, remains to be seen.
Consummating the showcar package is a 4.0L TFSI V8 biturbo engine that pumps out an exhilarating 605 horses and 516.3 lb-ft (700 Nm) of torque, or 553.2 lb-ft (750 Nm) when overboost mode is called upon, but that's only good for 15 seconds or so burst. An eight-speed tiptronic gearbox puts the power to the quattro permanent all-wheel drive system, which enables this 4,365 lbs two-door coupe to rocket from naught to 62 mph in mere 3.7 seconds. Surely we don't expect Audi to roll out a model that's actually called Prologue, but the market will likely to see something similar in future and so, no. There is no availability or pricing, let alone the intention to make this thing a reality.