Mercedes-Benz has finally pull the wraps off the new CLA Shooting Brake. Despite the new found station wagon body, its four-door coupe form is still very much alive, which means fans who adore the sporty lines of the CLA won't be disappointed here. Being of a five-door configuration, it also means the CLA Shooting Brake gets a significantly roomier interior, starting with a 94.7cm headroom at the rear – a bump of 4cm from its four-door coupe variant. In addition to that, ease of ingress and egress has also improved, while the cargo area now offers a capacity that ranges from 495 to 1354 liters. The rear seats can also be adjusted to a more "steeply raked 'cargo' position to increase the cargo capacity to 595 liters, while still offering seating space for five.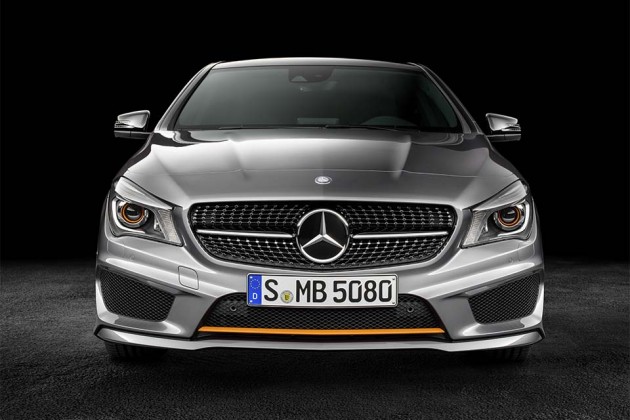 As always, Mercedes-Benz is always ready to please a broad range of buyers by offering the CLA Shooting Brake with a variety of engine options. At launch, it will be offered with two diesel models and four petrol models – all equipped with ECO start/stop function and are Euro 6-compliant. The 2,143cc diesel models include a 136 hp 200 CDI model with 221 lb-ft (300 Nm) of torque, and a 177 hp 220 CDI variety with 258 lb-ft (350 Nm) of torque. When mated to a 7G-DCT dual-clutch gearbox, the former makes the century in a modest 9.9s and has a top speed of 133 mph (215 km/h), and the latter makes 8.3s and topping out at a faster 141 mph (228 km/h).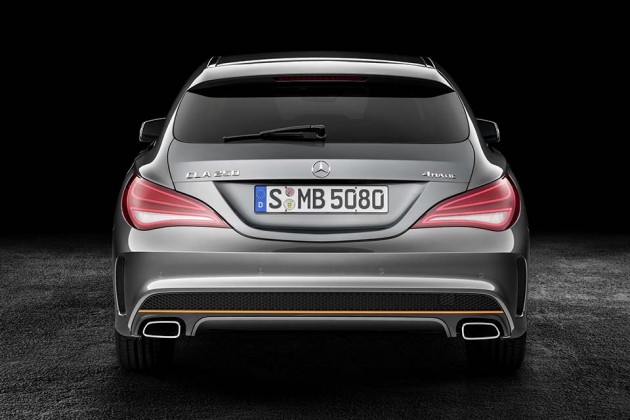 The petrol variants, on the other hand, will be available in two capacities: 1,595cc and 1,991cc. Entry level ride is, not surprisingly, the CLA 180 with 122 hp and 147 lb-ft (200 Nm), followed by the 156 hp CLA 200 with torque peaking at 184 lb-ft (250 Nm). Perch at the top of the 'regular' shoot brake range is the CLA 250, which will be offered in two-wheel and 4MATIC four-wheel drive, making a sound 211 horses with 258 lb-ft or 350 Nm of torque. On the performance aspect, don't expect mind-blowing numbers except for the CLA 250, which makes 0-62 in 6.9s (6.8s for the 4MATIC) and with a top speed of 149 mph (240 km/h). The petrol models is paired to 7G-DCT dual-clutch transmission, but the 4MATIC gets the option of Sport 4MATIC.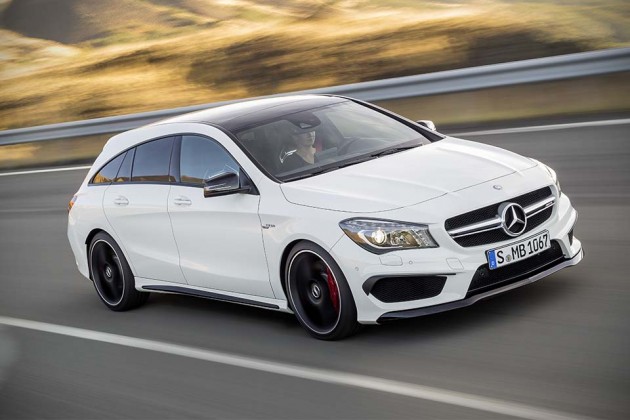 If the range-topper for the 'standard' CLA range can't satisfy your need for speed, then you should be looking at the Mercedes-Benz CLA 45 AMG Shooting Brake. Capacity for this AMG souped up model remains at 1,991cc, but power has been bumped up to 360 horsepower, while 331 lb-ft (450 Nm) of torque is at your disposal between 2250 and 5000 rpm. That said, the AMG variant is understandably quicker; it is capable of rocketing from standstill to 62 in just 4.7 seconds, sending it on its way to a top speed of 155 mph (250 km/h). So it is in fact a whole lot quicker and a tad faster than the CLA 250 and should fit in nicely with those looking for a sprightly wagon. But this great power comes at the expense of economy. The CLA 45 AMG does a combined fuel consumption of 6.9L per 100 km, while the CLA 250 does between 5.7 and 5.5, and the CLA 250 4MATIC, 6.8-6.6.
Of course, aesthetically, the AMG souped up shooting brake is tad more aggressive, but we shall let the images, which you find around this post, to do the talking instead. The Mercedes-Benz CLA 45 AMG Shooting Brake will make its debut in March 2015 at Geneva Auto Show, and both the 'regular' CLA Shooting Brake and the AMG version will see market launch in March 2015, but sales of the regular CLA Shooting Brake is expected to kick off in January 2015.