we are not gun advocates, but truth be told, we are dudes and guns, be it friction or not, happen to be one of those things that appeal to us. speaking of frictional guns, one of the most defining frictional firearms to grace the silverscreen would be Harrison Ford's sidearm in the sci-fi classic Blade Runner (Ladd Company, 1982), which had its fair share of screen time and hence, it did kind of captured fans' imagination. while Blaster Pro is still not a firearm enthusiasts can own even though 2019 is not too distant away, fans who has reasonable disposal income can grab this stunning Blade Runner Blaster Pro replica for 80,000 Yen or US$900. yes. you read that right. it's 900 bucks which is some serious money to drop for a replica, but from the look of it, it could be as close as the real deal as it can get.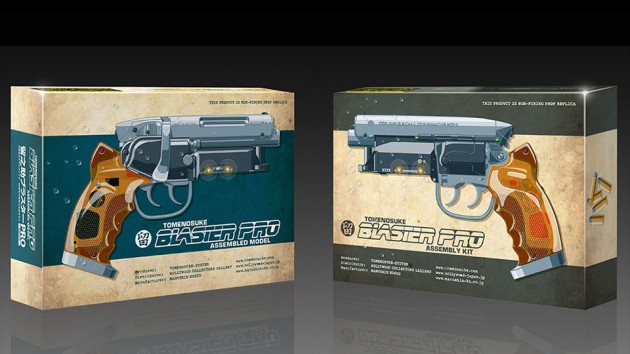 granted that the low resolution motion picture back in the 80s doesn't quite let anyone have a serious good look at the frictional weapon and the constant bleak cinematography didn't make it any better for anyone to scrutinize the detail. nevertheless, it is described as the "most accurate version yet". the Blade Runner Blaster Pro By Tomenosuke will be available this summer as a fully assembled, finished replica for the said amount. however, if that price tag will send your financial into a tailspin, there is a cheaper unassembled model kit version going for a 'more affordable' 47,500 Yen or US$570. for the first time, Japanese will be out of luck as according to Tomenosuke, the lot assigned to Japan market was sold out in a matter of hours, but for folks in stateside, Lady Luck might still be on your side cos' Hollywood Collectibles still have some up for pre-order. so we'd be quick about it as 50 is not exact a big number to go round.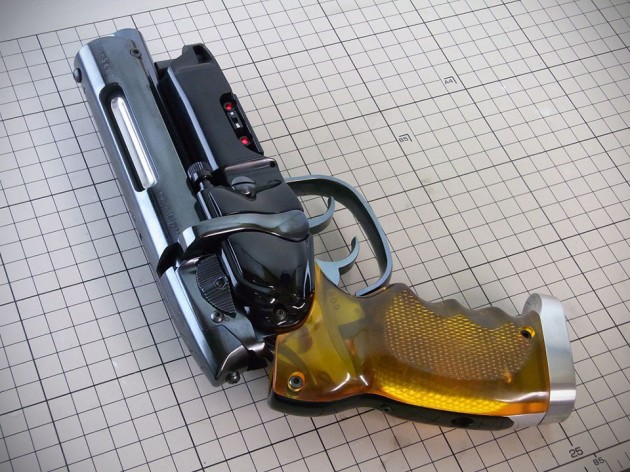 before you go, here's a little tidbits for gun lovers: Tomenosuke did consider making one that actually fires blank, but it didn't see fruition as doing so would require a series of reinforcement in the internal which would make it not cost effective and not to mention limited the sales of this beauty. in any case, this is seriously as close you can get to Rick Deckard's sidearm and if there is any consolation to not being able to fire, this pricey and limited replica is made of metal and mix materials which should add to the authenticity. scroll down for a Blade Runner theatrical trailer if you need a wee refresher of what the flick was about.