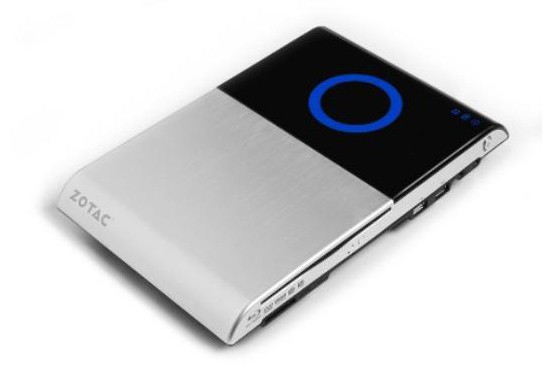 (photo source: zotac.com) ZOTAC ZBOX HD-ID33 | from US$399 | www.zotac.com
the ZOTAC HD-ID33 is a barebone mini-PC roughly the size of a large paperback. all you need to get this mini-PC going is your own RAM, hard drive and an operating system.
[ad#Google Adsense-text-468×60]
at first look, it doesn't look anything like a PC. this is the latest iteration of the long-standing Zbox line, and it comes with sibling too, by the model of HD-ID34 which is a complete mini-PC. the HD-ID34 includes 250GB hard drive and 2GB RAM.
the center of attraction for this sleek mini-PC is probably the slot-in Blu-ray player. processing power is handled by Intel 1.8GHz Atom D525 (dual-core, FSB 800MHz) CPU and graphic department is covered by NVIDIA ION with 512MB of DDR3 RAM. the HD-ID33 measures (L)187 x (W)280 x (H)40mm. amazingly, for such a petite size, the ZOTAC still manage to find a place for a fan to cool the PC.
there are a couple connectivity options, namely DVI and HDMI (HDCP with 8-channel digital audio, no analog audio though). the mini-PC comes with 2 x USB 3.0 and 2 x USB 2.0 ports (which includes 1 combo eSATA/USB 2.0 port). the HD-ID33 comes with a VESA mount which enables you mount it on the wall or mount it behind a LCD monitor.
other features include gigabit Ethernet, 6-in-1 card reader, 802.11b/g/n WIFI, Kensington lock connector. so what's the ZOTAC ZBOX HD-ID33? well, its up to you, really. but HD-ID33 is essentially a media-center, so hook-up to the big screen and make it work like one. cool?