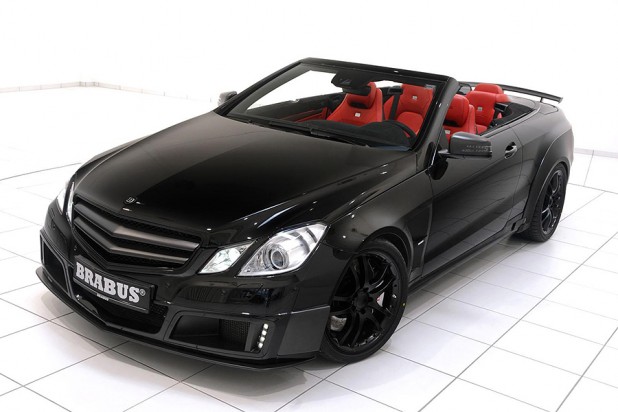 Mercedes-Benz BRABUS 800 E V12 Cabriolet | €478,000.00 | www.brabus.com
among the buzz and hype surrounding the upcoming C63 AMG Black Series coupe, BRABUS announced it's own big number souped up E-class convertible that will have 788-horses (588-kW) on the tab. yea, it's mind blowing indeed and the best part is, not only you and a lone babe gets to experience the exhilarating power but it has room for two more, babes or dudes – it's your choice.
[ad#Google Adsense-text-468×60]
getting to 788-horses is by no means just simple 'fiddling' of the engine but this powerhouse is given a whole new heart – a BRABUS tuned V12 Biturbo V12 engine that has a top speed of 370 km/h (231 mph) and capable of propelling this Black-eating monster from zero to hundred in just 3.7 seconds. these achievements (plus the certain exhilaration) are made possible with loads of tune-up and detailing, including increase in bore size up to 6.3-liters, sports camshaft, reinforce five-speed auto transmission, larger turbos with special exhaust manifolds, and among the many others.
exterior aesthetic treatment include full wide body aero-kit that includes LED daytime running lights integrated into the apron, newly designed front sport fenders and special carbon-fiber rear fender flares. completing the exterior aesthetic are four ultra-wide 19-inch wheels shod with 265/30 ZR19 tires up front and 295/30 ZR19 tires at the rear. the suspensions are reworked and developed in conjunction with Bilstein, and features variety of adjustment include ride hide. on the stopping department, the Brabus 800 E V12 Cab is bestowed with huge 380-mm, vented and grooved brake discs with 12-piston aluminum fixed calipers up front and the rear, 360-mm discs with 6-piston aluminum fixed calipers.
the interior features a contrasting lipstick-red and black leather upholstery, ergonomically shaped BRABUS steering wheel, genuine carbon fiber inlays on the dashboard and a speedometer marked with 400-km/h – a subtle hint that this is not your ordinary E-Class Cabriolet. the Mercedes-Benz BRABUS 800 E V12 Cabriolet will be available as built to order unit with a starting price of €478,000 (about US$680,000). check out more images of the world's most powerful and fastest four-seater cabriolet after the break.
via Autoblog