if you have the 'talent' of leaving important things like your phone or keys behind, then you should really check out Bringrr + BringTag. the concept is simple, but the implementation is a powerful one to ensure it does what it promised and that's to make sure you don't leave anything behind. Bringrr is essentially a Bluetooth-enabled gadget that goes into your car's cigarette lighter socket. it has USB port for charging your USB-powered devices, but that's not the star feature; the key feature of this nifty accessory is the ability to scan for missing items once you enter your car. it uses a dedicated app and scans for paired phone or items tagged with Bluetooth-enabled circular tags known as BringTag, and sounds an alarm (well, more like a chirp) if the items of your concerned are not inside the car before you drive off, thereby potentially saving you the hassle of u-turning back for the forgotten items.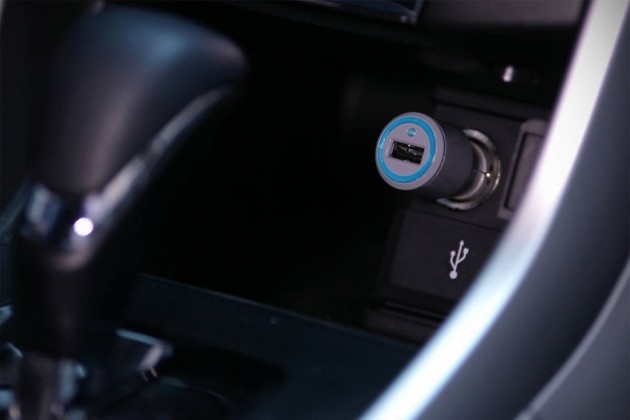 but what if you don't need all the tagged items everyday? the good thing is, you can schedule Bringrr to look for the tagged items only on certain days and it syncs with both iOS and Android Calendar so that not forgetting a physical object can be part of your daily routine. though this gadget is mainly targeted at those who drives, it is also perfect for non-drivers. using your phone, you can ping each tag and find your tagged item based on proximity or if you still can't find it, just activate the tag to ring. the tag is like a little wonder; it might be tiny, but it still packs a speaker, a battery that's good for a year use and it even has an accelerometer built into it too. the latter allows you to flip a tag like a coin to trigger your phone to ring so that you can locate it (in case it is the phone that you have misplaced). additionally, BringTag logs your item's last known location so that you can locate them easily when you need them.
Bringrr also boast seamless integration with Google Glass too. while the Bringrr lets you know you have left something behind, the Glass lets you know what you have actually left behind and looking for an item can be done just by asking the Glass. what the Bringrr + BringTag has to offer sure sounds exciting and it might be the perfect solution, or at least partial solution, for absentminded folks and for those who aren't always absentminded, a reassurance that those occasional slip of mind won't have you turning your car back. the history of Bringrr goes as far back as 2010 and the company have just seen a successful Kickstarter campaign earlier this year. for those who missed it, they are back and it is currently running another funding round on Indiegogo where you can score yourself a Bringrr + BringTag for just $49.