So you have put all your might into each and every gym session. You know it yourself, so give yourself a pad on the back for a job well done, but for everyone else, they don't need to know that by detecting your 'scent', a byproduct of your workout session, if you know what I mean. Bacteria build up is the main culprit of the terrible stench that has plagued active lifestyle folks and the only way to reduce or even eliminating that odor is to prevent bacteria building up. This is where Buffer Odor Resistant Gym Tee comes in. Odor-free, or odor resistant gym wear is not new; the market is bursting with such innovative solution as far back as 2012. Which begs the question: what makes Buffer Odor Resistant Gym Tee different? One word: copper. Yup, that metal.
But not to worry, you will not be wearing copper armor; instead, the fabric, which is of nylon/spandex mix, is "permanently infused" (read: treated) with copper ions and is tested to effectively remove up to 99% of microbial. The antimicrobial property, along with the quick dry, moisture wicking nature of the chosen fabric, works to prevent odor build up so your girlfriend, buddies and fellow human beings don't need to put up with your hard working aroma.
Apart from odor resistant, the tee is designed with gym goers in mind, providing wearer with snug fit while 4-way way stretch enables unhindered, full range of motion. Last but not least, each tee boasts flatlock seams, thereby eliminating chafing that, honestly, can be a huge pain in the butt, or in this case, shoulders especially when you moves a lot and makes huge movements. To be honest, there's no way that we are be able to tell its effectiveness unless we tried it ourselves and so, for now, we are just going to take the team's words for it. But hey, if silver did not live up to the promises and copper is widely used by hospitals, then I supposed it should work just fine, right?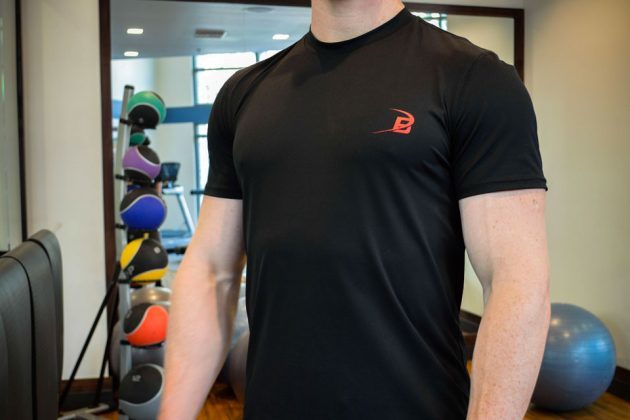 Anyways, if you are up for it, you can hit up Buffer Odor Resistant Gym Tee's Kickstarter campaign and pre-order yours for $34 and up, but as always, whether you will see the product at your doorstep this September depends on the outcome of the funding. The campaign has 18 more days on the calendar, which should enough for it to hit its $17,000 goal. As it stands, it has already drawn 86 backers with slightly over $10,000 in backing. Go check it out.
submitted via TIP US page.