regardless of whether it is Apple iPhone or Android-powered smartphone, we have to agree that charging is never an enjoyment experience. the need to plug and unplug can prove to be chore, especially when you are press for time. until now, we just live with it. however, Shenzhen-based HEVO LABS in China begs to differ. these folks have cracked the issue by introducing MagSafe-like charging to iPhone and best of all, they have it implemented to a super sleek battery case, offering 2,200 mAh worth of juice that would extend your handset's battery life by almost one and half time. the accessory is made up of two major components: a MicroAdaptor that goes to your iPhone's Lightning port and the battery case (called 'Cabin'). the latter attaches to the former magnetically, making fitting the battery case a swift process.
additionally, the same MagSafe-like connector is also found on the Cabin which is used to charge and sync the phone via a regular Apple Lightning Cable with a MagAdapter. with the MicroAdapter plugged in, you can also charge and sync your iPhone without the Cabin. what we have described is just half the story. the team have also designed a companion dock that not only complements the Cabin iPhone battery case aesthetically, but also harnesses the benefit of the magnetic connector for charging and syncing. unlike traditional docks offered in the market, it does away with the plugging process with the use of the same magnetic charging connector, which makes docking a matter of placing the device on the Cabin Dock.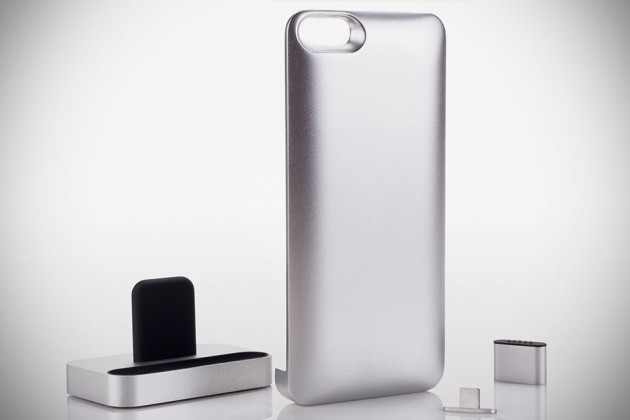 HEVO LABS also skip the norm of wrap-around battery case, using what the firm called as edge-covering frame with an aluminum unibody construction, thereby achieving a claimed 40% less volume than a typical battery case. though it is noteworthy that this might not save your phone in the event of a drop. since the case does not 'grip' your phone, any impact would probably result in separation between the handset and the battery case. the Cabin iPhone battery case has already breached its set funding goal on Kickstarter, which means by backing up the campaign, you will be pre-ordering the product with delivery slated for November 2014. the Cabin iPhone battery case requires a pledge of $99 or more, while the Cabin iPhone battery case and Cabin Dock combo will set you back at $135 for early backers, or $145 after the limited 200 sets run out.