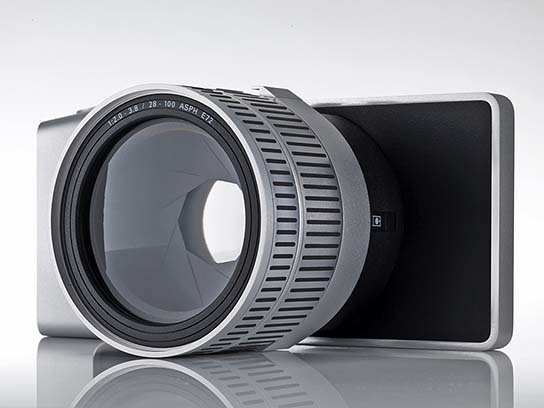 (credit: Artefact Group)
today's smartphone would be a perfect gadget for photography, if not for its less-than-ideal image equality. just imagine what the smartphone of today possesses: WiFi, Bluetooth connectivity, GPS, powerful processor, OS-driven interface with add-on apps et cetera. now imagine all these qualities and perhaps more, are thrown into tomorrow's DSLR. awesome? definitely. that's what Seattle-based Artefact Group has envisioned with its concept camera, dubbed the Camera Futura.
[ad#Google Adsense-text-468×60]
Camera Futura introduces the best of both worlds to the DSLR by embodying the wholesome goodness of "connectivity and application platform capabilities of today's smartphones and wirelessly connects them with interchangeable full SLR-quality optics." Camera Futura uses a patent-pending Wireless Viewfinder Interchangeable Lens (WVIL) system that enables the viewfinder to be separated from the optic lens while still able to capture images under full control. the system offers many advantages such as framing at awkward angle or constrained space and framing of self-portrait shots et cetera.
the multi-touch display unit works like your smartphone, enabling apps to be used to enhance your photography experience, or decide how in-camera HDR is captured, among the many other possibilities. since it works like a smartphone, it would allow appropriate apps to be installed, such as apps for adding effects or filters to your images, and its built-in connectivity allows instant sharing of your images with your social networks.
it sure sounds like an exciting future for digital camera's future and i have a gut feel that this is in fact the future of photography in general and not just DSLR. just a couple post ahead, we featured the Leica i9 Concept which further strengthens our believe that a smartphone like camera is the future of all digital cameras.