if you are in a constant of state of fear that your smartphone's battery will conk out before your day ends, then we suppose you will have at least a backup battery stash inside your bag, or for even more 'security', probably a charging cable and a power adapter for times where they are wall outlets available. Chargerito is a really tiny mobile device charger that aims to replace your usual power adapter and cable combo, so you can bring it anywhere without dealing with tangle of mess or weighing you down. in fact, it is about the size of a typical car key fob and will be completely at home on your keychain, and small enough to slip right into your pocket. perfect for times when you don't want to bring your bag. the concept behind Chargerito is not new, but at 2.1″ x 1.3″, it might very be the most unobtrusive charging device money can buy.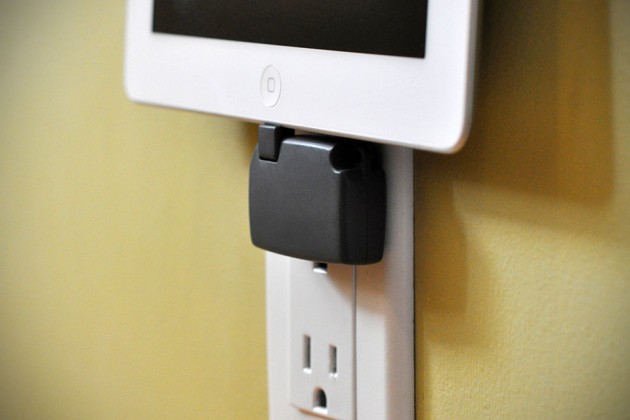 made for U.S.-type socket, it has a pair of prongs and charging connector that stays flush until you need to use. when plugged to a wall outlet, your device sits on the charger, props up against the wall without the need to leave your device on the floor or whatsoever. and oh, did we mention that it even has a built-in bottle opener? well, it has that too, which is a pretty nice touch. available in Apple Lightning connector version for Apple small devices and micro USB version for use with other USB-powered device such as Android phones and tablets, the Chargerito Phone Charger is currently running a crowdfunding campaign to help fund the production and certification, where you can pre-order one at a special discounted price of just 19 bucks.
submitted via TIP US page.