no matter how groundbreaking it is, a bicycle helmet still looks pretty mundane. however, if you approach a multi-disciplinary designer to pen one, things might turn out very differently and in the case of Philippe Starck, it turns to be rather out-of-this-world. as opposed to the usual 'streaking' teardrop shape which typically has the 'pointy' end facing the rear, Starck's take has the 'pointy' end facing the front and complete with a clear face shield that makes it looks like a protective headgear of an anti-riot police of the future than a bike helmet. but all is good, because it doesn't matter what it looks like; all we know this is one heck of a cool bike helmet and probably the best of what we have seen for the longest time.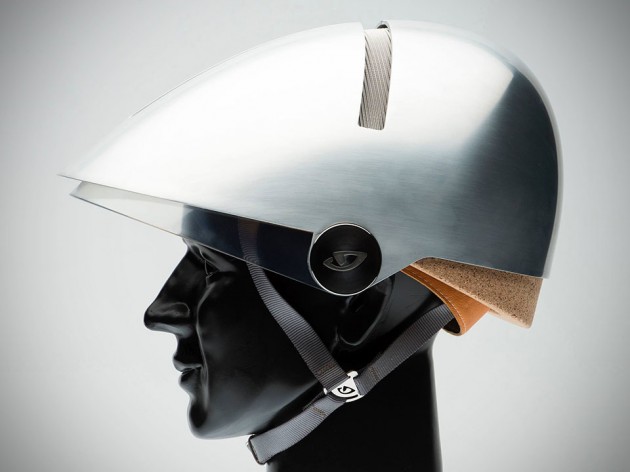 the helmet, developed in collaboration with California-based Giro Sport Design, was designed to complement the range of e-bikes, known as S+ARCKBIKE, that Starck launches with European bike maker Moustache. not only is the designed radical by bike helmet's standards, the materials too, are unconventional by any count. the helmet boasts a cork liner made from sustainably harvested cork from Portugal and has a lightweight aluminum shell that can be easily recycled at the end of the helmet's lifespan. with regards to the latter, don't ask us 'how long' cos' we have absolutely no idea. perhaps, up till when the cork material give way or have after having a series of clashes? we really don't know. anyway, while the use of aluminum may not come as a real surprise, the cork is certainly an interesting choice.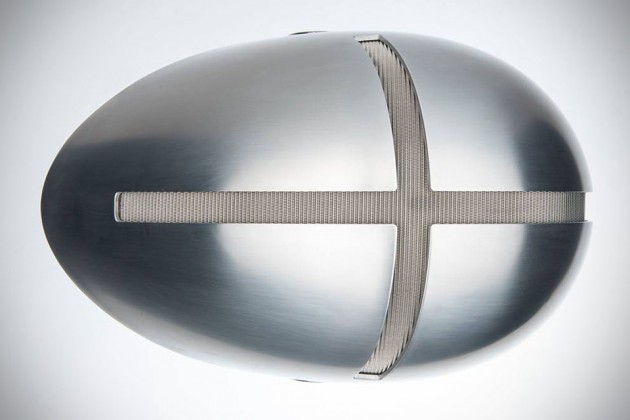 apparently, cork is naturally water-resistant and so it should counter sweat without a hitch (though we are not sure about salt-laden perspiration) and it is also said to offer excellent impact energy management and has significant anti-microbial properties, both which are important aspects of a bike helmet. and then there is the clear face shield which, though odd-looking, may prove to be a valuable feature to keep bugs out of your mouth if you intend to take your bike out to remote areas. the Giro by S+ARCKBIKE Helmet Concept, as it is called, was introduced late last month at the Eurobike tradeshow. as for pricing and availably, they are yet to be announced.