how many of you here actually print any photos taken with your mobile devices' camera app or Instagram app? if your answer is 'rarely', then you might have been missing the critical tactile feel of print photos. but we suspect we may know why: laziness, lack of print shops, expensive, and somehow prints don't look as good as in digital format. well, then Cubee is the object that has the answers to all the aforementioned reasons and probably will rekindle your interest in prints. so what the heck is a Cubee? in the simplest explanation possible, Cubee is an illuminating photo cube inspired by the classic photo cube circa 1970s.
it serves the same purpose as the photo cube you may have acquainted with, which is to provide a tangible way to display your photos. one that you can pick up and admire the beauty of the cube and the photos, but fashioned for 21st century users by incorporating a light source within to illuminate the photos, hence the name illuminating photo cube. located right in the middle of the 3.5″ cube is a lone 12mm warm white LED with 3400K color temperature that will light up the photo without being overly distracting. with this chosen light source, your photo cube not only serves as a multiple photo frame, but also doubles as an attractive ambience light to your home. all electrical components, which also includes a rechargeable lithium battery offers up to 8 hours light time per 90 minute charge, are kept compact, thus allowing the light to reach all corners. with your photos backlit, i am sure it will look as brilliant as they were when viewed digitally.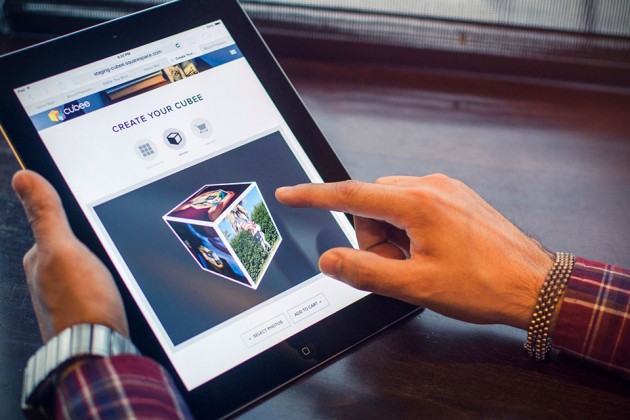 to get started, Cubee will take your print order, either by grabbing the photos of your choice from your Instagram account or by uploading them directly from your mobile device or computer (coming soon, we heard), via Cubee website. once you have previewed it and satisfied with what you see, then it is a matter of submitting your order and waiting for the cube to arrive. you don't even need to hit up any print shops – all these are done right from your desk with your trusty computer (with Internet connection, of course) or your mobile devices. the photos will be printed on Kodak Universal Backlit Film, the same material as used by backlit posters you see in malls and streets, which has an even translucent glow that will make your photos shine quite literally.
you can pre-order the Cubee Illuminating Instagram Photo Cube from Kickstarter for just 30 bucks, which will include a Cubee and five personalized backlit photo prints of your choosing. expect delivery to commence sometime in December 2014, hopefully, before Christmas. click past the fold for a product pitch video to learn more.
submitted via TIP US page.