So you think LEGO's 5,195-piece Star Wars Millennium Falcon Ultimate Collector Series is impressive? Probably it is impressive, until you see this custom creations by Singapore-based Titans Creations' iteration which is composed of a whopping 10,000+ pieces and what's more, the beauty isn't just skin deep; it was created in all its cross-sectioned glory. The intricacy that goes into this iconic Star Wars modified space freighter is nothing short of mind-blowing. In fact, if you look at the final product photo, you'd be forgiven to think that it was one of those cross-section images pulled from the pages of Popular Science. It took the six-man team over two months to complete, in time for Legoland Malaysia's May 4 event.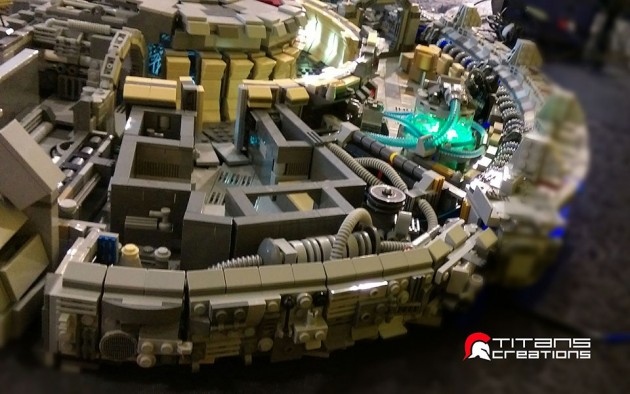 And oh, did we mention that it is built to minifig scale? Yup. It sure is and the result is a mighty 144 cm by 144 cm (4 feet 8 11/16 inches by 4 feet 8 11/16 inches) LEGO Millennium Falcon – a size which makes the 84 cm by 56 cm (2 feet 9 1/8 inches x 1 foot 10 5/64 inches) LEGO's 2007 release looked a little puny. Size is one thing that's always bound to impress in any My Own Creation (MOC). Though so, the team did not stop there. They have even added 24 LEDs to light up the corridors (yes, it has those too), hyperdrive, rear thrusters, as well as the cockpit. As beautiful as it may be, it's a MOC, which by definition means it is an unique build that money can't buy. If you want one, you gotta build one yourself based on the information you find on the Internet and your own imaginations cos' the team doesn't have building instructions for it at this point in time.
While you're pondering over how you're going to land yourself an example like such, you can psych up your desire to build one by checking out the team's Flickr page for more awesome imageries and also see the LED lights in action on their Facebook video.
via CNET