rugged Bluetooth speaker is a subcategory of Bluetooth speakers which are getting pretty overcrowded too, but if you really think about it, does all those Bluetooth speakers that claimed to be rugged really inspired any confidence? probably not. what you need is a sound box that actually gives you the confidence and in the case (pun not intended) of the DemerBox Rugged Bluetooth Speakers, they are crafted out of Pelican cases, a name that's already synonymous with toughness. what creator James Demer does is to marry his expertise in sound and audio circuitry, and the tough Pelican to result in these delightful outdoor speakers.
available in single (known as 'Bang') or dual speaker (known as 'Big Bang') setup, DemerBox Rugged Bluetooth Speakers connect wirelessly to your Bluetooth-enabled audio sources via Bluetooth connectivity, offering up to 30 feet of range and a built-in battery offers up to 40 hours of playback per charge. apart from the promised "incredible fidelity and punchy bass", it is one tough little fellow that's water resistant too. the inner workings of the speaker, including a 3-inch aluminum cone driver (or two, in the case of the 'Big Bang'), a conformally coated circuit board, Bluetooth module, a USB port for charging any portable USB-powered devices, a DC charging jack, and a stereo line-in jack, are confined to an inner lid, which leaves the DemerBox with some usable room for your other things such as energy bars, first aid kit, a small water bottle and such.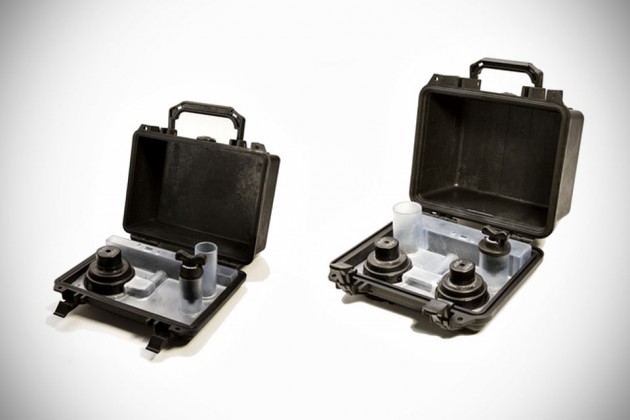 a pretty brilliant idea, actually. perfect for adventure seekers who, instead of seeking for tiny, ruggedized speakers, take a slightly larger one that also doubles as a carrier for small items. DemerBox is currently on Kickstarter, looking to raise 60 grand to take DemerBox Rugged Bluetooth Speakers to production. a pledge of $229 will land you with the 'Bang' and $329 for the 'Big Bang' – if the campaign hits or goes beyond its set minimum funding goal.