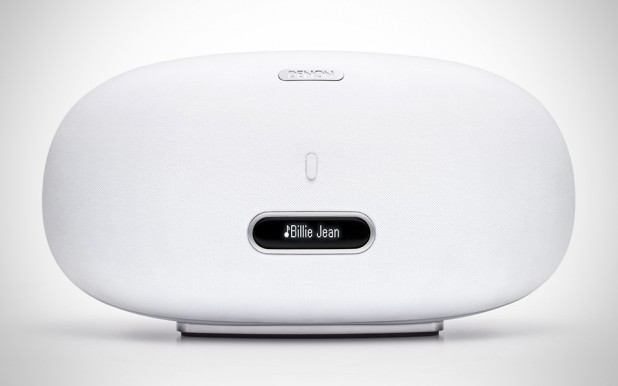 Denon Cocoon | about US$640.00 | www.denon.com
despite the rumor of the new iPhone sporting a newly design docking pin, Denon has pushed ahead announcing it's first sound dock dubbed as Cocoon. though, Denon has little to worry about as the Cocoon is equipped with Apple's AirPlay which should make it last for years to come, well, at least until Apple decided to axe AirPlay, which is of course, an unlikely scenario. apart from the retractable docking tray to accommodate your iPod Touch or iPhone and AirPlay-capable, the Cocoon also supports regular wireless streaming from your Android and Windows devices, as well as Network Attached Storage, thus expanding its versatility. there are two models of Cocoon: the Home and the Portable. the Home model is a larger unit designed for home use, while the Portable is physically smaller which makes it convenient for users to lug it around.
the Cocoon sports a sculpted and curvy chassis, making it look like an oversized pebble which gives the white version a very zen-like feel. the workhorse behind the Cocoon Home is made up of 4x 25W Class D amplifiers, 2x 40mm tweeter, and 2x 100mm woofer, while the Cocoon Portable's audio reproduction duty is undertaken by 2x 25W Class D amplifiers and a pair of 100mm full range drivers. common features include built-in Internet radio, touch sensitive control, remote app controllable (iDevice and Android), Ethernet port, built-in WiFi, 3.5mm audio jack, USB input, OLED display, and clock function. the Portable has a few other features including a 5-hour rechargeable battery, integrated carrying handle, a repository for stowing away your remote control, a sturdy monocoque construction, and is resistant to water, sand or dust.
the Denon Cocoon is slated to be available mid-August with a price tag of around $640. click through to take a closer look at the Cocoon.