I swear we did post about an impressive prop replica of the Dominator Portable Psychological Diagnosis and Suppression System, aka 45MW.TRG Dominator, a few years ago. But I can't locate it among the 14,000+ posts we had.
Anyway… straight from the anime Psycho-Pass is a replica of the Dominator weapon system used by the Inspection and Enforcement officers of the Public Safety Bureau… crafted entirely out of cardboard.
This awesome cardboard-based prop replica is the handiwork of Japanese YouTuber Crafty Transformer – Cardboard DIY/Twitter user つくるさんCrafty Transformer. Obviously, cardboard version ain't going to be impressive as the prop replica, but it impresses is the opening muzzle as seen in the anime.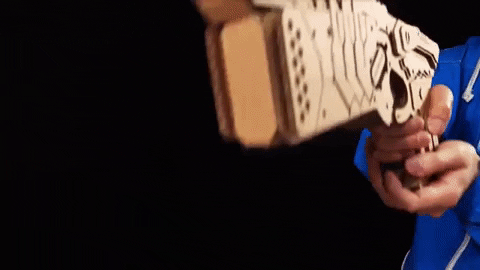 Even more impressively is, the opening muzzle works without rubber bands or motors. It is just clever mechanical linkage that leverages on the power of gravity. The muzzle can return to its closed state simply by sliding the upper section. Very impressive.
Crafty Transformer – Cardboard DIY has shared free templates of the build so if you are itching to made one yourself, you can. Meanwhile, here's a video of the Dominator being made and also some action sequences with some nice effects.
Images: Twitter (@Tsu_ku_ru-san)/YouTube (Crafty Transformer – Cardboard DIY).