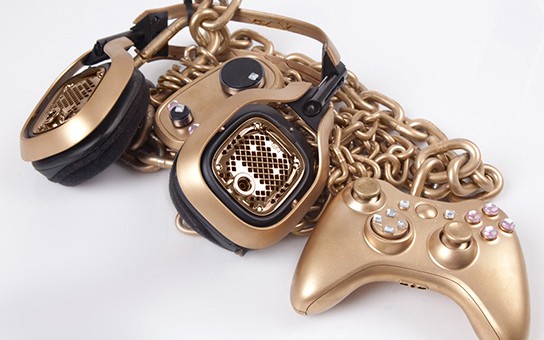 (credit: Astro Gaming) Astro Gaming The Gold Edition | from US$999.95 | www.astrogaming.com
are your gaming accessories lacking of the weight and bling factor? fret not, Astro Gaming has a solution for you – in the form of the exclusive limited edition 'The Gold Edition' (seriously, i feel awkward phrasing that) which are essentially gaming gears created out from solid 22K gold. whoa… if this is not pimped, i don't know what is. check out some images after the break to witness for yourself.
The Gold Edition product line includes the A40 headphones, XBOX 360 controller, MixAmp 5.8 RX wireless receiver and the Urban Lanyard. the latter is more like a gold chain than a lanyard, which would be something hip hop artists and rappers would love. aside from the 22K gold, the Gold Edition XBOX 360 controller also sports a diamond-tipped buttons and gold wiring. you might not have midas touch but you can get these ready-in-gold item to add some bling to your gaming experience.
now all that's left is to get an XBOX 360 that's dress in gold. no word on the availability of the Gold Edition but you can head down to their website and be notified when it becomes available. however, be prepared to shell out at least $999.95 for The Gold Edition.