It was a moment of revelation. Our concept of carry-on luggage is wrong the whole time. Why? A luggage needs to be towed and the wheels of today's luggage is only good if it rolls on perfectly flat ground. But then again, you can't blame luggage makers cos' small wheels take up less space, meaning it won't intrude into the precious storage space and hence small, good-for-flat-ground wheels kind of stuck. However, the creators of G-RO didn't think so and insisted travellers shouldn't be short changed as far as towing of luggages is concerned.
G-RO defies convention by going all-terrain – thanks to its enormous, axle-less wheels that allows it to conquer cobblestone, curbs, wet surfaces, sand and even snow and ice. Now, that, my friend, is a game-changer. For once, having a luggage in tow outside of the airport will be a painless affair – comes what may. And the most brilliant part is, those large diameter wheels won't eat into the precious luggage space as they are super slim and are on the outside of the bag. Crafted out of aerospace and firearm-grade polymers, the wheels are super lightweight without sacrificing on strength. In fact, the unusually large wheel also serve to strengthen the walls of the bag and also makes for a lighter pull since the center of gravity is now closer to the rotation axis.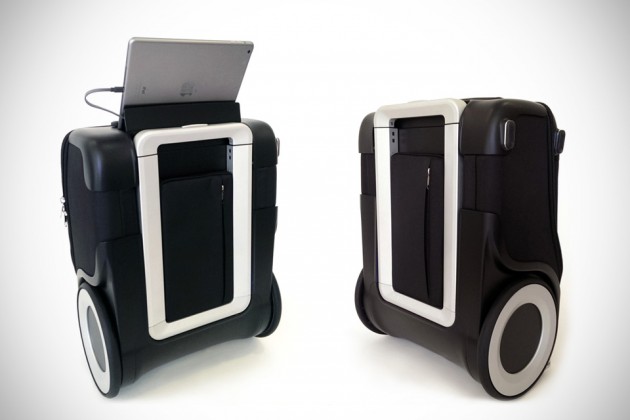 Unlike most of today's carry-on that strives to go 'smart', G-RO put that as an option, allowing to opt for an optional electronic module that will add a 23,000 mAh battery to keep your smartphone, tablet and laptop juiced at the same time. This optional module also packs a location tracker, as well as wireless proximity detector to ensure your G-RO will never be lost. Other noteworthy mentions include a four-stage aircraft-grade aluminum telescoping handle, crush-proof and water resistant Cordura ballistic nylon exterior, YKK zippers on unique "roller coaster" zipper design, arched belly and waterproof base (think lifted 4×4 vehicle), compartmentalized with ample pockets, dedicated carry-on liquids pocket and personal pocket for quick retrieval of essentials, and built-in charging station with a pair of USB ports and tablet stand.
G-RO Carry-on Luggage has a little over a week left on Kickstarter, but it have since smashed its set funding goal to become the most successfully funded carry-on luggage with over 5,000 backers behind it, contributing over $2 million in funding. If you are all up for it, you can join in the party by pre-ordering one for $279 and up. But be warned that it will be quite a wait as delivery will not happen until August 2016. Check out the pitch video after the break.