is it a boat? is it a helicopter? or is it a seaplane? well, it is actually a watercraft, or a catamaran to be exact. we were as dumbfounded as you might have when we first saw this contraption. correction. it should be: we were pretty excited first when we thought it could actually take off and fly. alas, it couldn't but still it presents as a novel watercraft for those who thinks $74.9K is a drop in the ocean. this unusual catamaran was a creation by Washington-based, very aptly named firm, HeliCat and this particular model you see here is the 22, a 22-ft long example (or 21.5 feet to be precise). unlike traditional catamaran, the HeliCat adopts a helicopter-style upper which, when equipped with the optional vinyl side doors, prevents water from collecting on the craft.
with a helicopter 'fuselage' atop and a catamaran lower, the HeliCat sure looks like a rather unholy lovechild of a helicopter and a catamaran, which we could only described as weird but at the same time rather refreshing as far as watercraft is concerned. the HeliCat offers a choice of a dual 60 hp and 90 hp engines, with the 90 horses power plant capable of a top speed of 69 km/h (43 mph). the yellow example you see here sits three – a pilot and two passengers – but if you have the money to drop, it can be custom for up to seven people and outfitted to suit various operations such as fishing, tour boat or water taxi, or as a transportation to offshore scuba platform – just to name a few.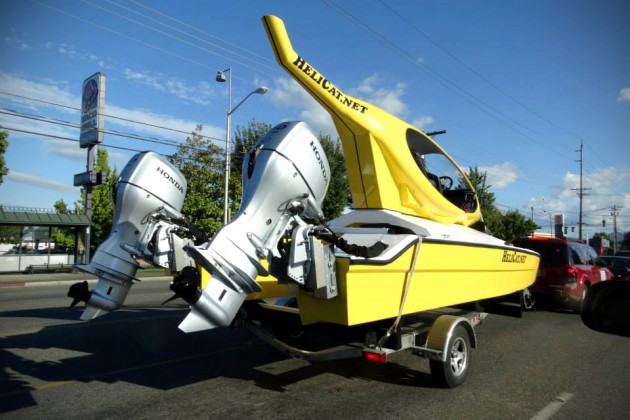 besides completing the look of a helicopter, the tail of the 'fuselage' actually serves as a wakeboard/waterski tower and since it is a catamaran, this watercraft is naturally designed to take on rough waters, and so if you do decide to use this to keep a wakeboard in tow, then you can expect some seriously extreme wakeboarding. the HeliCat 22 was formally introduced last year and available now starting at $74,900 for one packaged with Mercury engines and trailer. understanding that the odd matrimony between a bird and a catamaran might not be everyone's cuppa, the firm can also fit an actual sports coupe or convertible instead, which could be a way cheaper alternative to a custom Corvette Boat. action video available after the break.