Unusual ways of telling time on a wristwatch are not new but fairly uncommon for wall clocks. And if you looking to get one (a wall clock with an unusual way of telling time), David Kingsman will show you how to turn an IKEA clock into a "wander hour" clock. This is an improved version of the wandering hour clock by clockspot, aptly called Improved Wandering Hour Clock.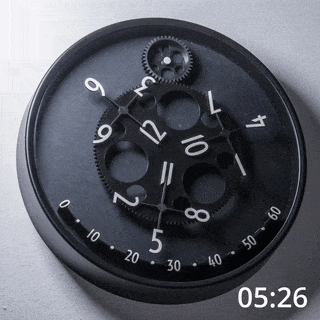 The base clock is an IKEA Bondis Clock and it uses a Geneva drive to rotate the hour wheels. The minutes are on a "minute arc" marked with 10 minutes intervals. To tell time, you note the hour numeral that coincides with the number on the "minute arc". In the above example, that would be 12:20.
In addition to 3D printing the parts required to modify the stock clock, you will need a more powerful clock movement, acquire screws of different sizes as well as a bunch of bearings. Also, the project is not just taking apart the clock. You will need to make holes to fit the gears and brackets for the bearings.
If you want a conversational clock and have a knack for technical builds, you may try your hands at building the Improved Wandering Hour Clock. You can learn more about this super cool clock over at Printables.com where David has offered up the instructions and also the template file.
Images: Printables.com (David Kingsman).