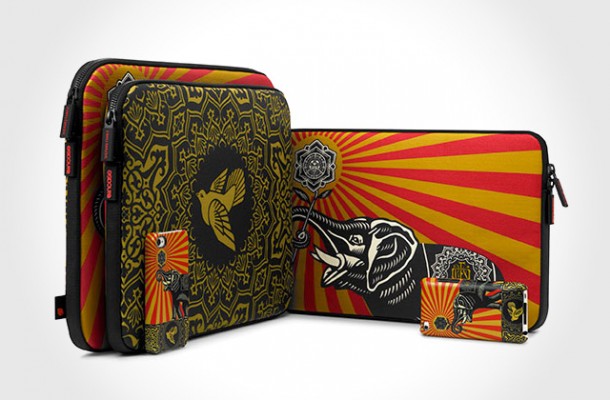 Incase for Shepard Fairey | from US$29.95 | www.goincase.com
the Incase for Shepard Fairey series is something that any art lovers would not ignore. street artist Shepard Fairey work of arts graced a range of Incase products that are designed for Apple products like the iPod Touch, iPhone 4S/4 and MacBook. the collection includes iPhone/iPod Touch case, laptop sleeves of various sizes (11-, 13- and 15-inch), as well as backpack. each product is adorned with a selection of bold patterns and illustrations emblematic of peace and harmony – in fact, three designs are showcased: Elephant, Ornament and Pattern, on these products. here's what Fairey got to say about these artworks:
[quote]"The artworks that comprise my series for Incase all overtly or sublimely reflect the concept of Peace. Peace seems like a simple idea, but evidence of its fragility is far too visible. I believe peace, beauty and harmony are not only related, but intertwined. Visual symbols of peace manifest similarly in many different cultures, transcending language and reminding us of the basic loves and needs we all have in common. Peace is a struggle, but whether the images are ornamental, hopeful, or cautionary, this series promotes harmony."[/quote]
the Incase for Shepard Fairey bags and accessories can be purchased via Incase web store with a starting price from $29.95 for iPod Touch case and runs up to $149.95 for the Campus Pack.