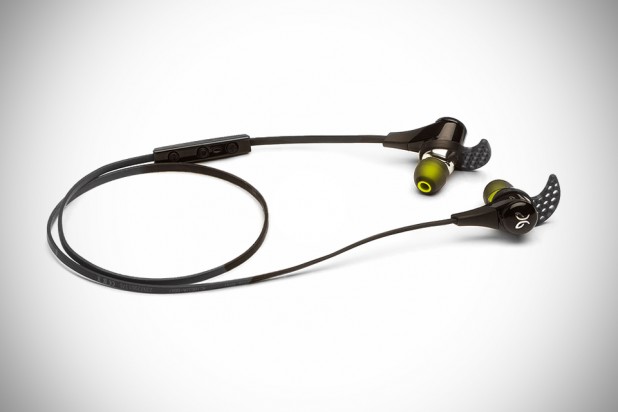 JayBird BlueBuds X | US$169.95 | www.jaybirdgear.com
audio purists would steer clear of Bluetooth audio, regardless of whether they are headphones or speakers, for their perceived 'less than ideal' sound quality. however, the new JayBird BlueBuds X is set to change that perception with the incorporation of SHIFT premium Bluetooth audio. so what exactly SHIFT does to help? traditionally, audio is compressed on your Bluetooth media device end, send over the air and 'unpacked' by the Bluetooth headphones which though effective, result is certain losses. the BlueBuds X addressed this with a custom implementation of the native Bluetooth SBC codec (i.e. the SHIFT) which eliminates this associated losses, thus delivering the music as it is intended to be heard. and the best part is, there's nothing extra to fiddle with. all you have to do is pair and play and the SHIFT will take it from there.
other features include custom tuned drivers, JayBird's PURESOUND technology, compatbility with iPhone's EQ for the extra oomph, X-FIT for a choice of over or under-ear fit, SIGNAL PLUS for skip-free music regardless where your source is placed on your body, JENNA voice prompts for a more intuitive user-experience, inline remote and microphone for music and call controls, a rechargeable micro-sized battery that offers up to 8 hours of continuous playback and last but not least, a sweat-proof construction that JayBird is so confident of that they are proudly offering a Lifetime Warranty Against Sweat for the BlueBuds X. another attractive feature is its compatibility: it is compatible with a host of devices, including the obligatory iDevices (iPhones, iPod touch, iPad, iPad mini and the latest iPod nano), Android, Windows, Blackberry Phones, PC and Mac machines, gaming devices as well as MOTOACTV. the JayBird BlueBuds X is available now in two color options: midnight black or storm white, with a sticker of $169.95 a pop. check out a product intro by JayBird's founder and CEO after the break.