With so many entertainment channels offered to us today, I think it will be hard for most people to even consider going on a road trip or hitting the wilderness for a good'ol camping trip. But with the Jeep Renegade Hard Steel Concept, you might be able to do those while not being away from your 'usual entertainment'. The automaker surprises visitors and journalists at the Geneva Motor Show this year when it unveiled the Hard Steel Concept. But the real surprise isn't on the Renegade, but what's behind it: hitched to the Renegade was a small trailer that's basically a carbon copy of the Renegade's rear end, complete with taillights (of course), bumpers, identical wheels (only two, naturally) and right down to the 'fuel door' above the right wheel.
Based on Jeep's range-topping Renegade Trailhawk, the concept is treated to a unique silver paint job that mimics the look of brushed steel. Additionally, the exterior also gets contrasting matte black accents, which can be found on the bumpers, roof rails, rocker panels, grille, hood vents and on its 16-inch alloy wheels, while the interior is spruced up with brushed steel-look trimmings in places like the air vents, glove box, speakers and shift console. Finally, lead-colored Frau Century leather "with special worn look" completes the cosmetic package. But the real mentions would be the trailer, really, which features a hinged top that pops open to reveal a large touchscreen display. What you can do with the big ass display is not specifically pointed out by Jeep, but we are thinking something along the line of 'movies' and 'Internet', which should be just about right.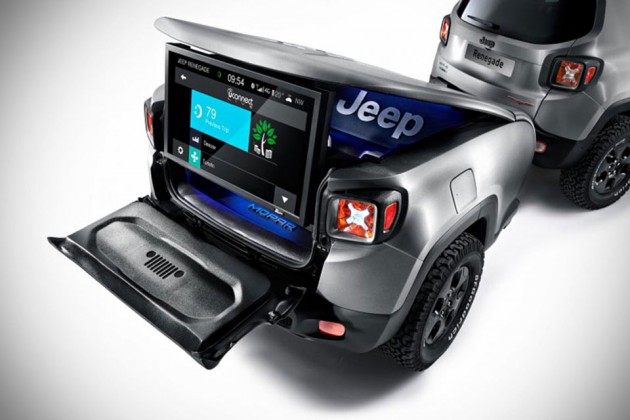 Additionally, the SUV itself is loaded with tech, including Uconnect 5- or 6.5-inch touchscreen audio systems, featuring the upcoming Uconnect LIVE service for Europe that offers access to services such as Deezer music, Tunein radio, Reuter news and real-time traffic info. In the showcar, it was also fitted with Mopar WiFi system, which kind of turn the trailer into a mobile hotspot too. Sounds like a dream come true for adventure-seeking, gadget enthusiasts? I am it is, but there is no telling if Jeep will be offering the Renegade with such a matching trailer as an option, much less a trailer with the said big touch display.