gadgets such as iPad are very much part of our lives today and there are no reasons why it shouldn't be part of our home. it should be like our house keys, always there so we can grab-and-go when we head out and when it is not going anywhere, it should have a place to nest and recharge. if you are thinking a dock should do the trick, we'd say yes and no. a dock is not and will never be part of your home cos' it is movable and sometimes mess up your desk and so what you need is a well-thought out accessory like the JUICE on-wall dock for iPad. yes. it is a dock designed specifically to blend into your home and provide a permanent nesting place for your beloved iPad.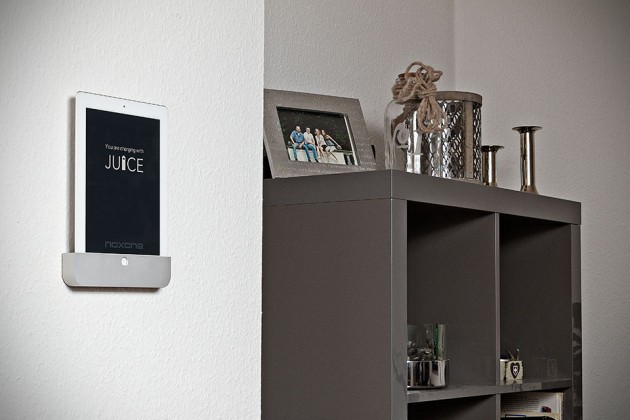 if you have a wall with cavity, just pull a long USB cable through it to where you want the dock to be and on the other end, plug it into a wall outlet with a USB power adapter and boom, you have a permanent place right on the wall for your iPad. of course, there are a few prep works to be done, like getting an extra long Lightning connector cable and ensuring that where you want the dock to be has ready access to an available wall outlet, but at the end of the day, you will be rewarded with a truly clutter free and high-tech dock setup. the dock itself is crafted from a solid block of high-grade aluminum, sandblasted, micro polished and anodized which looks awesome with or without the iPad.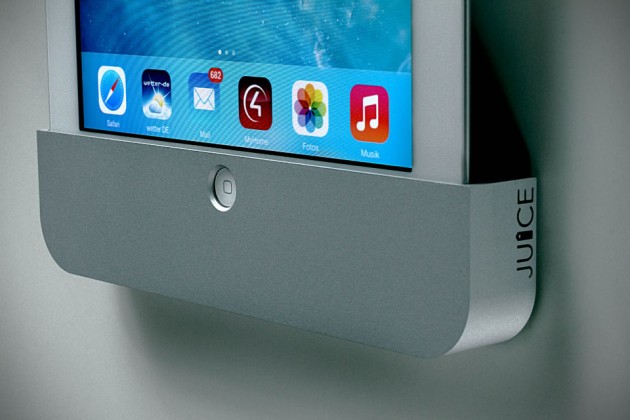 on the inside, it is lined with a special form material that will hold on to your device snugly, while a front inlay keeps the display free from scratch. it even sports a thoughtful "accessible home button", which basically is a round cutout that offers you access to the home button when docked. an especially perfect accessory if you are using your iPad to run your home automation system or media center.
the JUICE On-wall Dock For iPad is compatible with iPad 2 through to iPad 4 and is currently running a campaign on Kickstarter, seeking financial backing to turn it into a reality. pledge amount to secure yourself one of these awesome docks starts at just £39 (around US$65) and if all goes well (i.e. the project hits its set funding goal), you can expect an August delivery.