I remember when I was younger, KFC used to serve fried chickens with real plates and proper cutlery (yes, I am that old). In the early years, the management decided to dispense with the formality and took on the disposable route, which kind of makes sense as one of its very first and arguably most recognizable slogan was "Finger Lickin' Good." The slogan was dropped, picked up, dropped, made a comeback and eventually dropped again. Notwithstanding, the slogan is what most people associate KFC with and as it turns out, KFC Hong Kong is not only still using the slogan, but it has taken the concept of "Finger Lickin' Good" to a whole new level with edible nail polish that tastes like, well, KFC fried chicken, of course. And yes, it is a real thing.
The KFC Finger Lickin' Good Edible Nail Polish, as it is officially called, is created in collaboration with McCormick, the spice company behind KFC's secret mix of herbs and spices, and offered in two of the fast food chain's iconic flavors: Original and Hot & Spicy. Ad agency Ogilvy & Mather is working the ad magic for this campaign which aims to create a drum up excitement surrounding the brand in Hong Kong. The nail polish applies and looks like regular nail polish, except that, instead of avoiding tasting it like your parents told you to, KFC invites you to lick, again and again.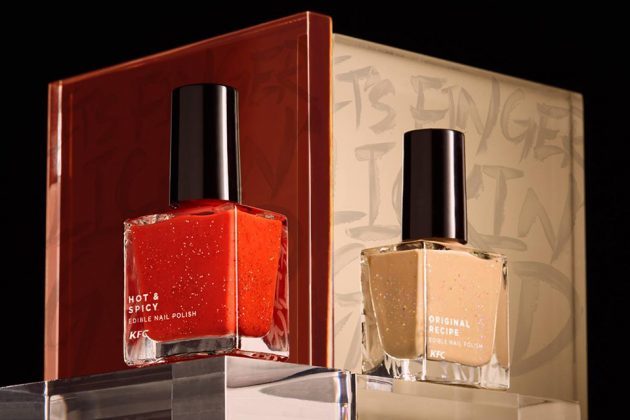 In case you are wondering, the special blend of nail polish is designed to "hold the flavor," though it is unknown how many licks it will take before it gets, well, tasteless. Clearly, licking your KFC fried chicken-flavored nails isn't going to make the food taste any better; it does, however, makes a rather intriguing advertisement campaign. Official words are, the edible nail polish will not be mass produced, but rest assure, it is as real as it can get. KFC HK teased the Internet with the nail polishes packaged in designer bottle and box late last month and it has since then officially unveiled the product in Hong Kong in a press event where Hong Kong star Myolie Wu also made an appearance and had her nails painted with the flavored nail polish.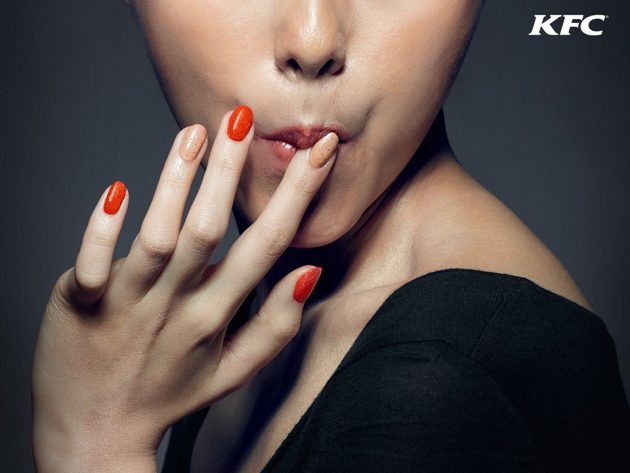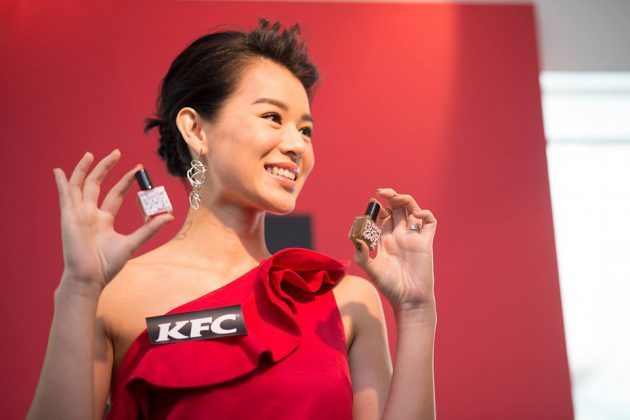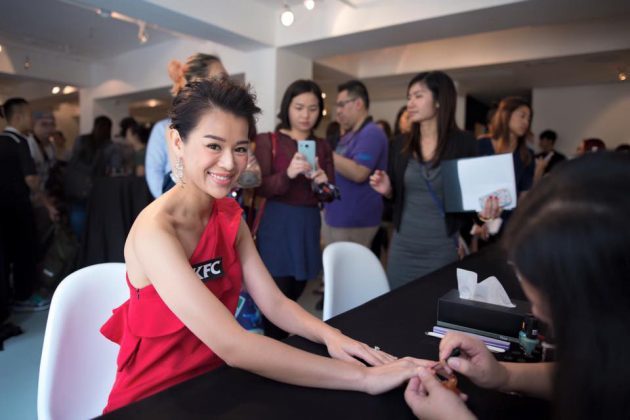 All images courtesy of KFC Hong Kong.