If you recall, KIA had a Wolverine-inspired Sorento earlier this year to promote X-Men: Days of Future Past release on Blu-ray, DVD and Digital HD and to mark the company's sponsorship of the Australian Open 2015. 2016 will be no different. But for 2016, Sportage is the model of choice to be dressed up as the second generation X-Car to promote the new X-Men movie, X-Men: Apocalypse that's due to hit the theaters May 27, 2016. This time round, KIA's ride is inspired by the infamous shape-shifter, Mystique and features custom-designed bodywork with special textured 'tone-on-tone' matte and gloss blue paint finish that mimics Mystique skin tone.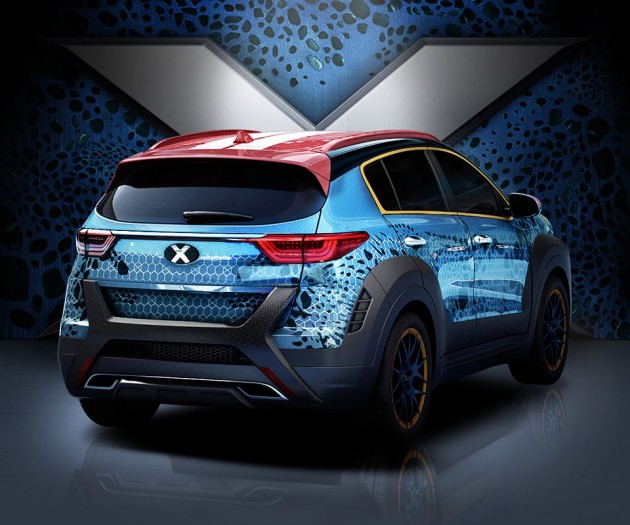 The wheels are not spared either; it gets the due blue treatment, against a yellow rim, while the rest of the car, such as the window sills, side mirrors and the roof, receives red and yellow accents. Rounding up the X-Men aesthetic is a large X emblem that sits right smack at the center of the car's front grill and yellow-tinted headlamps, mimicking Mystique yellow eyes. Apart from the Mystique livery, we thought this year's iteration of the X-Car is way less impactful than the previous variation where oversized Wolverine's claws dominated the front and the rear of the Sorento.
Anywho, the 2nd-generation X-Car will be officially unveiled in Melbourne, Australia at the Australian Open 2016 in January and it will be on display at Melbourne Park throughout the duration of the tournament. After which, it will take to road, hitting up international motor shows and fan events in the run up to the film's premiere.