with smartphones, information, friends and business associates are just a few touches away, but if you need information at a glance without pulling out your smart device or firing up websites or apps on the computer, then LaMetric Customizable Smart Ticker is the gadget of choice for you. LaMetric is like the Fliike we saw last year, but only 'smarter'. it goes beyond displaying the number of 'Likes' on your Facebook fan page, letting you customize to show the calendar of the day and alert you of anniversary dates and stuff, displays temperature or weather forecast, feed you with news or stock information, and more – all in a sleek, digital ticker that sits on your desk. what LaMetric can display is whatever you can throw at it, which really takes information at a glance to a whole new level.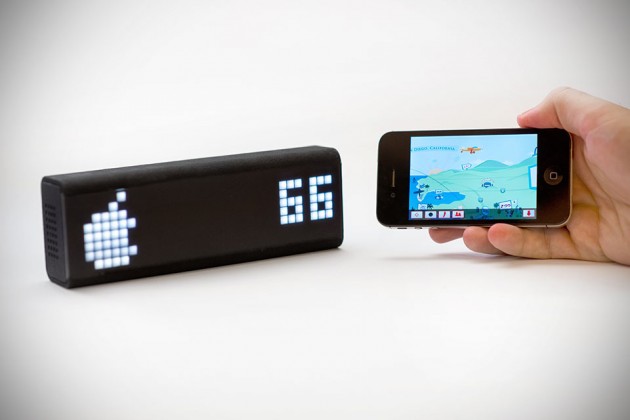 customizable through a dedicated app, you can combine icons, scrolling text, metrics that you want to display. LaMetric goes beyond metrics or information from your social networks or stock information, it can even be integrated with home automation systems like SmartThings, WigWag or Ninja Blocks to keep you inform of events such as when your pet leaves the house or someone is at the door. there are three buttons located on top of the device; one button on each end allows you to scroll through the metrics and an action button that you can use to launch the appropriate app or website on your computer in response to the notifications. say for example, you are alerted by LaMetric of a Facebook message. a simple tap on that action button will launch Facebook on your browser.
basically, the customization is pretty much limitless. all you need is to configure them. the LaMetric Customizable Smart Ticker is the brainchild of UK outfit, Smart Atoms and is currently on Kickstarter peddling for financial support. in fact, they are doing pretty great so far with just 9 grand short of their set funding goal of $69,000 and that's considering the campaign still has 43 days to go. there are several reward levels for both plug-in and battery operated units. a pledge of at least $119 will secure yourself a plug-in unit and if all goes well, which it should, you can expect the LaMetric to be delivered sometime in January 2015. keep going for a pitch video to learn more. you might also want to check out a LaMetric 'simulator' to experience its customization prowess yourself.