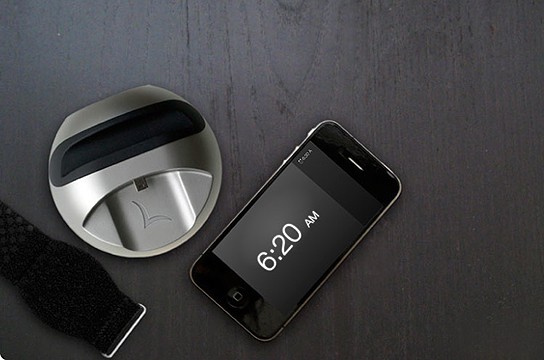 (credit: LARK) LARK for iOS | from US$129.00 | www.lark.com
some of us tend to be bothered by somebody else's alarm clock, especially when you do not have the need to wake up at that particular time. i am certainly glad that California-based company, LARK understands this. it has an interesting product that will let iPhone or iPod Touch user wake up without disturbing the sleep of your partner. LARK works in sync with your iPhone or iPod Touch and is a "silent un-alarm clock and sleep sensor." ehmm, 'silent un-alarm', you say?
[ad#Google Adsense-text-468×60]
as you would have guess it, this is yet another hardware and app combo. it consists of a specially designed wristband and an iPhone app. LARK made its first appearance at the TechCrunch Disrupt in San Francisco last year and now it is proud to announce its availability at Apple retail stores in the United States. so what's so special about this gadget? well, instead of blaring out the alarm sound, the iPhone (or iPod Touch) cradled in the LARK hardware will send a signal to the wristband that you are wearing, and silently nudges you to wake. thus, it will not disturb your partner next to you. unless you have your hand with the wristband over your partner. ahem.
the cradle will also charges your iOS device when it is docked, ensuring that you will not ran out juice when its time to sound the alarm but if your iOS device died, the LARK has a couple of fail safe system built-in to make sure it will still wake you up. in the event that your iPhone dies, the wristband will still vibrates at the set time and if you managed to take the wristband off in your sleep (don't laugh, it happens) or the wristband battery dies, the composer-created audio back-up will take over the duty to wake you up. the wristband also features a micromovement wrist sensor that will picks up your sleep pattern as you sleeps.
the LARK for iOS that includes the silent un-alarm clock and sleep sensor retails for $129 while the LARK Pro for iOS cost $189, and in addition to what the LARK for iOS has, it also comes with a 7-day sleep assessment and sleep coach (this is where the micromovement wrist sensor will come into play). the 7-day sleep assessment and sleep coach is also available for separate purchase for $60. then again, you will still need the LARK for it to work.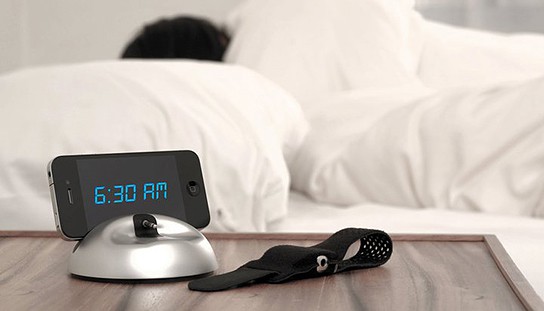 LARK via GeekGadgets