Lawnmower robots aren't new, and so are lawnmower robots that do without perimeter wires. However, one that boasts visual AI, and yet does not cost an arm and a leg is not common.
Enters Lawna. Billed as "the smart cyber mower", Lawna navigates around your front or backyard using visual AI. Using visual AI, it maps your back or front yard and creates a virtual boundary perimeter.
Using the map, Lawna will optimize the route, divide work areas, and arrange optimal work schedules all on its own.
It has obstacle detection and avoidance too – thanks to the onboard vision and ultrasonic technology. When pets or children approach it, or if it is lifted up, the blade stops rotating and retracts into the machine.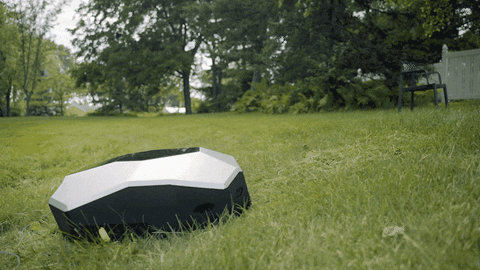 And it has adjustable blade height, allowing you set the height of trim from 25-80 mm via the companion app.
Lawna is powered by a brushless motor, which is powerful enough to take on 30-degree inclines, and it rolls on off-road tires. Though it is waterproof, it also has a humidity sensor that enables it to detect rain and return to the dock, so it does make a mess of the lawn.
Recharging is automatic. When it is low on juice it will auto return to the dock to charge and if it has yet to complete its tasks, it will pick up where it left off once it is completely recharged.
Lawna offers a wireless connection with the app via Bluetooth, 4G, or WiFi, allowing real-time GPS tracking. It also has a built-in anti-theft alarm. Additionally, it will be locked when picked up and it can only be unlocked with a PIN code.
Like many such smart robotic lawnmowers, Lawna doubles as your yard/garden guardian, patrolling the area at night. It has onboard storage to save footage of unusual activities.
Finally, all these high-tech features are complete with a futuristic, geometric aesthetic that, TBH, wouldn't have our attention if it didn't look how it looked now. It kind of reminds us of the Cybertruck.
If you are keen, you may learn more about Lawna The Smart Cyber Mower over at the product's Kickstarter campaign page where you can also pledge for a product for US$699 and up.
The campaign has already met its funding goal and so, all there is left to do is for LawnaTech to fulfilled its promise to deliver in January 2023. However, this being a crowdfunding campaign, it does have its risks.
Readers support this website through ads and affiliated links. As such, we may earn a small commission – at no extra cost to the reader – if a reader clicks through and makes a purchase.
Images: LawnaTech.