If you are still feeling sore about missing out on the four-wheel super bike, Dodge Tomahawk, well, we have good news for you. Now, for about half the price the Dodge Viper-powered Tomahawk, you can acquire the Lazareth LM 847, a bike with similar caliber as the Tomahawk, which means it is a motorcycle with not two, not three, but four wheels. And no, it is still not a car. You see, the pair of front and rear wheels are tightly packed, which means it is more like a bike with insanely wide wheels and also, it is powered by a car's motor.
And mind you. This is not just any car's motor; this one is powered by a Maserati 4.7-liter V8 unit, kicking out 470 horses and turning out 620 Nm (457 lb-ft) of torque, and is mated to single-speed chain gearbox so that all you really need to do when you hopped onto the hot seat is to hold on, dearly. No performance figures were provided, but it don't take a rocket scientist to figure out this 400 kg (882 lbs) monster bike (yes, we are calling it a 'monster') to know it has a crazy power-to-weight ratio and it will go very, very, very fast.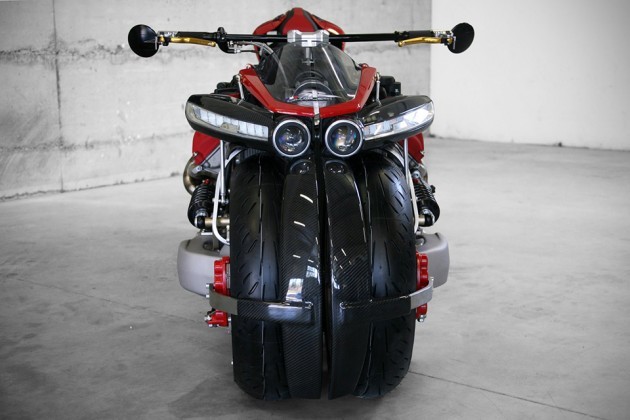 Other highlights you can expect include 4-in-1 stainless steel manifolds, double 255mm Brembo 4-piston disc brake at the rear, dual 420mm 8-piston disc brake up front, Rizoma mirrors and levers, Michelin Power Cup Evo tires, TFX suspension technology, and a chassis derived from glass, aluminum and carbon fiber. Also, we are not sure if this is even road-legal in France, or anywhere else in the world. If it is legal, would it be registered as a car or bike?
But lets not worry about legality first. Instead, the first thing you have to be clear is whether you have $217,000 to spare, because that's how much you will need to drop for this monster. And mind you, with that amount, you could afford a spanking new 911 R with change to spare.