China's personal computer giant and the world's number one PC maker, Lenovo has quite a few things to show at this year's IFA in Berlin, including a beautiful Intel Atom-powered Android tablet, the firm's first 17-inch touchscreen gaming laptop and a new ERAZER gaming rig. the new lineup kicks off with the TAB S8 which is the first tablet from Lenovo to be powered by an Intel Atom quad-core processor Z3745 with a clock speed of up to 1.86GHz and it is fitted with an 8-inch Full HD IPS multitouch display. other details include 2GB of RAM, 16GB of internal storage, Dolby-enhanced dual front speakers, an 8MP autofocus rear-facing camera with f2.2 lens, a 1.6MP front-facing fixed focus camera, a 4,290 mAh lithium-ion battery good for up to 7 hours of usage and supports both wireless n and Bluetooth 4.0 technology. it will be available with or without LTE. the package weighs in at 299g or about 0.65 lbs.
next up is the Lenovo Y70 Touch, the company's first 17-inch touch laptop that is rigged to on-the-road performance gaming. processing power is offered by up to Haswell Intel Core i7 quad-core chip (no clock speed was provided), while graphics duty is executed by up to NVIDIA GTX 860M graphics with 4GB VRAM. it has a 17.3-inch Full HD touch display and can be configured with up to 16GB DDR3L RAM and up to 1TB of SSHD storage with integrated 8GB SSD cache or 512 SSD storage. other highlights include integrated JBL stereo speakers and 3W subwoofer with Dolby Advanced Audio v2, backlit keyboard, a HD webcam, a battery pack that offers up to 5 hours use per charge, built-in WiFi and Ethernet port, plus the usual serving of I/Os including a pair of USB 3.0, one USB 2.0, HDMI, 4-in-1 card reader and more. all told, this monstrous portable gaming rig tips the scale at 7.5 lbs (3.5 kg).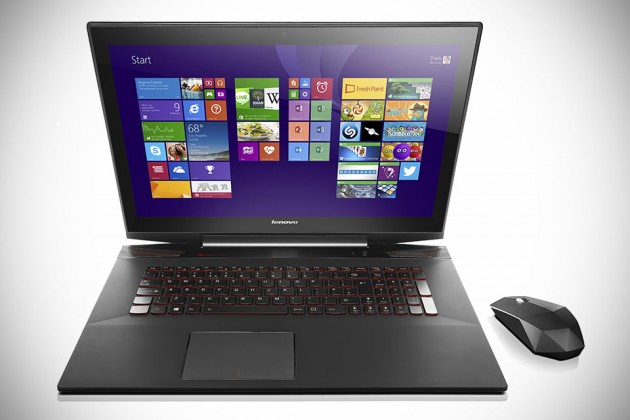 finally, there is the latest member of the ERAZER gaming PC, the X315. it bears the similar space age look, consistent with the rest of the ERAZER and boast a choice of AMD Kaveri processors under the hood. you will get to choose from either the A8-7600 3,1GHz quad-core processor or the A10-7850K 3.7GHz quad-core processor. the A8 model gets an AMD Radeon R9 255 with 2G VRAM, while the A10 model comes with AMD Radeon R9 260, also with 2GB VRAM. further separating the two models are the RAM and storage. the A8 gets 8GB RAM and 1TB plus 8GB SSHD, and the A10 will be provided with 12GB RAM and 2TB plus 8GB SSHD for storage.
other key details include four USB 3.0 ports with one always-on charging to cater to your USB-powered devices, two USB 2.0, HDMI-in, VGA port, a 7-in-1 card reader, Ethernet port, audio jack with optical support, and of course, built-in WiFi that supports up to ac standard. and oh, it will also be fitted with an optical drive (no specific was given) and the rig is also setup to handle Dolby Advanced Audio. there are no words on both pricing and the availability of these wonderful gadgets.