LG is really determined to give stick vacuum leader, Dyson, a run for its money. Following the LG CordZero A9 earlier this year, LG has revealed a new A9 model called LG CordZero A9 Kompressor Stick Vacuum.
This flagship cordless stick vacuum is powered by a Smart Inverter Motor offering 200W of suction power and as its namesake hints, Kompressor technology that condenses dirt, pet hair and debris.
This effectively doubling the bin capacity without bumping up the weight and profile of the device. Kompressor is not automatic though; it is activated with a simple press of a lever like so: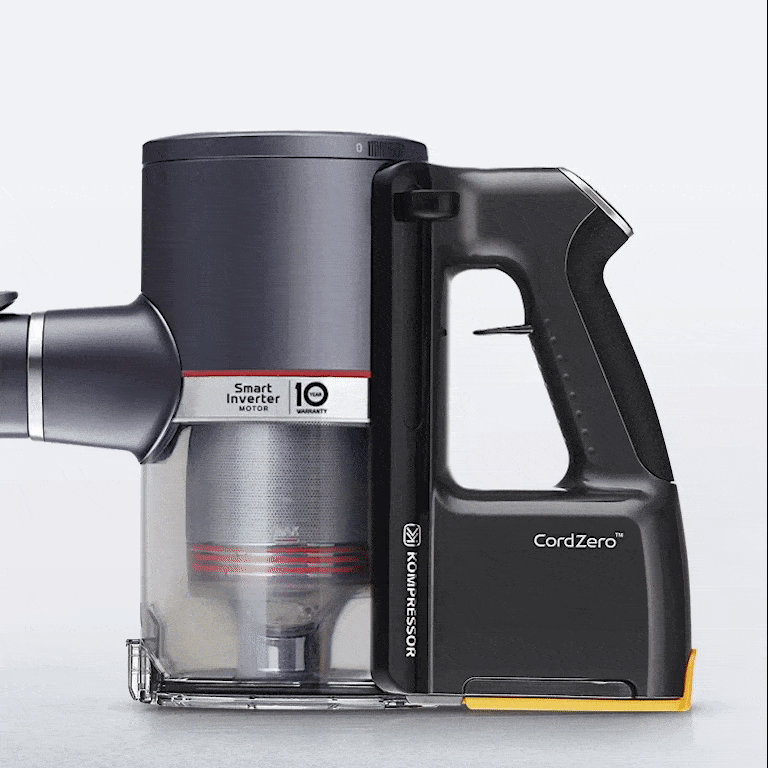 Other notable features include adjustable telescope wand, portable charging stand, one-touch operation, and a five-step HEPA filtration system that filters 99.99 percent of dust, pollen and pet dander.
Speaking of filters, LG CordZero A9 Kompressor Stick Vacuum also boasts removable, washable cyclone and filters – unlike other vacuums that only have washable filters.
Each unit comes with an assortment of attachments, including Power Carpet/Universal Floor Nozzle and deep-cleaning Power Punch Nozzle, and two upgraded quick-release rechargeable lithium-ion batteries for quick battery swap for up to a total of 120 minutes of operation.
If you ask me 120 minutes is an overkill. I get tired vacuuming for 30 minutes. But hey, I'll take it because, after all, we have take into account battery deterioration over time. So, the more capacity, the merrier.
LG CordZero A9 Kompressor Stick Vacuum (model A927KGMS) is available as we speak from LG.com for US$699.99. It will also be available at Amazon, Best Buy, as well as regional retailers across stateside shortly.
Images: LG.