Converting a sports car into a truck is not the newest new. Converting a sports car into a truck without a truck frame is also beginning to be a norm, but one that is without a truck frame under it and lifted? Now, that's something rather new to us. Well, we do note that it maybe considered blasphemous to some to convert a 1995 240SX into a truck and LIFTED, but I thought this particular example that was once on sale on Craigslist was pretty sweet. According to its owner, it is completely road-legal and it is also off-road capable. And why not? It is, after all, lifted and has just the right set of shoes, doesn't she? Here's what it had to offer for $4,300:
"1995 240sx car that has been modified into a truck, this car is all 240! There is no truck frame, still has ka24 dual cam engine and 5 speed transmission, 5 lug hub conversion, drilled and slotted rotors all around, 33″ all terrains BFG, 15×10 with -44 offset wheels, Heat is hot and A/C is cold and they both work obviously, still can drive this car off road or on road still legal Will do highway speeds with no problem, car has 124,000 miles, awesome car has a tow hitch also. Only thing does need is window motors to go down, back window opens manually. I do have a clean and clear title. For sale at $4300 or trade send me your offers. No I will not take the lift off!"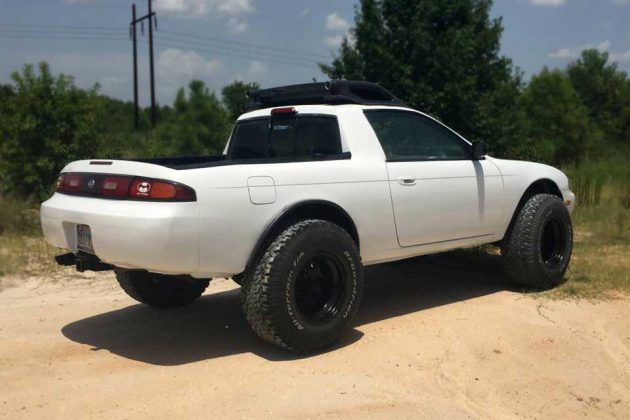 As you can see, the seller is probably a purist when it comes to selling this baby as he insisted that he will not, for his life, remove the lift. And seriously, I think he should not. Anyways, the car is gone now. We are not sure why. Did it make the sale or something else? We tried to pick up more images, but as said, the listing is gone and all we have are these two pics pulled from our source.
Source and images via Truck Yeah!