Can't enough of your Marvel's superheroes? Well, here's one exhibition in Hong Kong that we thought is a must-go if you call yourself a Marvel super fan. Organized by Hong Kong-based toy maker, Hot Toys, the Marvel's Avengers: Age of Ultron Exhibition kicked off its Asia tour three weeks ago, starting with Hong Kong where fans will be able to catch Hot Toys' Avengers creations at Hysan Place. The exhibition is open to public, presumably daily, and will run until May 10. Expect to be greeted by a barrage of 1/6 scale, realistically sculpted action figures including Iron Legion, Ultron Mark I, Ultron Sentry, War Machine Mark II from Avengers: Age of Ultron, the Movie Promo Edition Mark VII (Stealth Mode Version) collectible figures, Hulkbuster Cobaby (S), and Series 2 of Artist Mix Figures Designed by TOUMA, displayed for first time worldwide.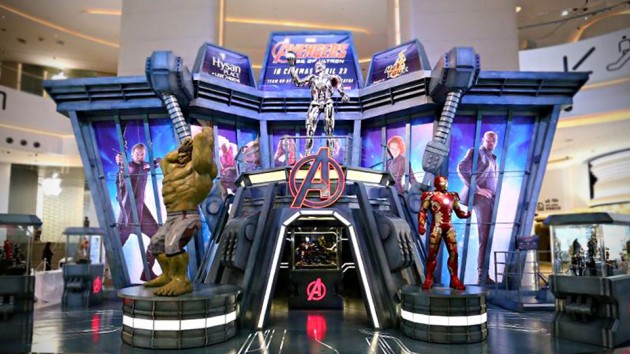 Additionally, there is a specially designed diorama on display, featuring what will be an iconic scene in sci-fi cinematic history, or at least to the Marvel Cinematic Universe, the showdown between the 1/6 scale Hulkbuster and the very confused, and misled Hulk. There will also be a holographic showcase where you will find Iron Legion collectible figure, in 1/6 scale of course, depicting the "Age of Ultron" is coming. But those are not all, also showcased at this exhibition are some life-size items, including a ginormous 13-foot tall Hulk vs Hulkbuster sculpture, a 10-foot Hulkbuster statue (located outside Lee Theatre), plus statues of Ultron Prime, Iron Man Mark XLIII, The Incredible Hulk, Captain America and Thor, against the backdrop of the Avengers Tower.
There are also a bunch of other Hot Toys Avengers: Age of Ultron collectibles for you to marvel at. Finally, what's a toy exhibition if there isn't any thing to buy, right? That said, if you have some (or should we say 'plenty') of dough to drop, a Hot Toys Pop-up store is onsite throughout the exhibition duration where you can stock up with Hot Toys collectible items and specially designed Avengers-themed stuff. Continue reading for a few more look.