anyone here with extremely deep pockets and thinks McLaren P1's 904 horsepower 'is barely enough'? if so, well, then we suggest that you keep your fingers crossed that the McLaren P1 GTR will turn from concept to reality. also, perhaps it is a good time stop drooling over the Malibu beach house and start racking in some serious money for it. as noted, the GTR is a design concept which is based on the existing P1 hybrid drivetrain, but one tuned with the tracks in mind, and it is not just any track car that McLaren wants you to have; the British marque wants it to be the best driver's car in the world on track. its 3.8-liter twin turbo V8 petrol engine is motorsport-optimized and the lightweight electric motor are massage to offer 1,000PS or 986 horsepower.
free from the need to be bound by road rules, McLaren promised P1 GTR to be the most track-tailored and most powerful model to roll out of McLaren Special Operations and thus, resulting in this GTR-badge track beast receiving a slew of upgrades and enhancements, including aerodynamic tweaks said to be re-engineered from the ground up, increased front track, race-proven slick tires, race-prepped suspension with fixed, but lower than standard ride height, and basically, everything needed to hustle your round the track like a pro. all there's left now is giving your track skills a little shake up, which the real highlight with this purchase will address.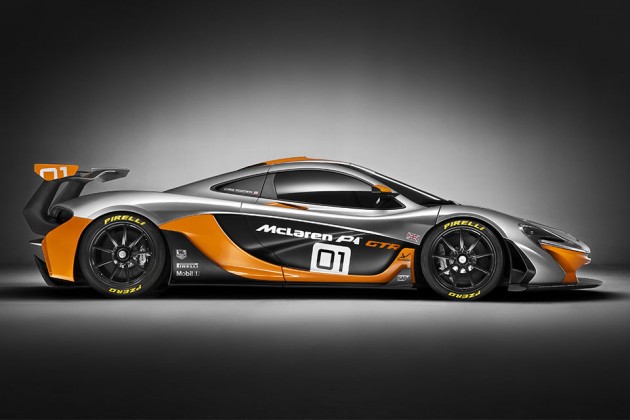 the car comes with an exclusive, bespoke McLaren P1 GTR driver program which will include specialist driver training, "human performance" and access to the McLaren racing simulator – all in the effort to hone your skills for the track while at the helm of this beast. as you might have guessed, McLaren Special Operations will maintain and run all cars, and manage the program that you have would have inducted into with the purchase of the car, but just exactly when that purchase will happen, remains unknown. for now, it is still a design concept that rolled into a private event at the Pebbled Beach Concours d'Elegance over the weekend.
there is a piece of vital information for the ready-to-splurge wealthy folks though; this particular example is said to be a preview to the final model "which, with a little under a year until production commences." the ride is on its next phase of development, so our best guess that you will see this is sometime in 2016. keeping going for a few more delightful images.