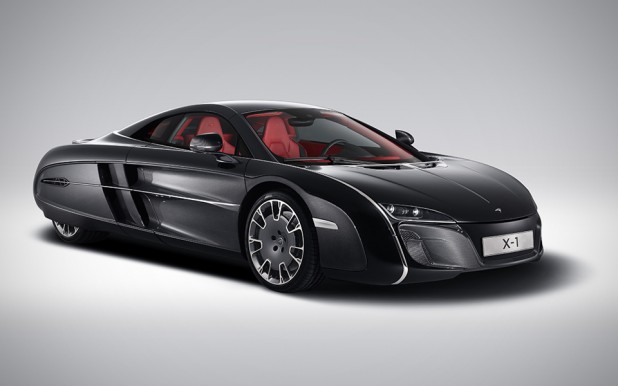 McLaren X-1 Concept | US$na | www.mclarenautomotive.com
what you see here is not a car from a sci-fi hollywood movie nor was it from the 50s era. i might sound contradicting to describe the car as such but this particular, exotic-heavy sports car does indeed looks like the car of the future (if you ignore the wheels, that is) with a wee touch of the 50s – 70s autos inspired design. the McLaren X-1 Concept, as it is called, is based on the British marque's unique Carbon MonoCell as found on the 12C and was a creation by McLaren Special Operations (MSO) for an anonymous car enthusiast. while it may sport a somewhat Audi R8-ish front end but that's just about the only closest resemblance it has to today's supercar, as the rest of the design is engulfed by a not-so-today aesthetic that includes sweeping lines that stretches from the front to the rear and ending with the 1971 Citroen SM-inspired enclosed rear wheels. in short, it is an out-of-this-world design in today's context and we dare say, even for the near future.
most of the carbon panels are finished in a rich piano black, save for a few that are lacquered over to showoff its full carbon fiber glory. the X-1 features components that were tooled exclusively for it, including unique head- and tail lamps, nickel-finished solid aluminum brightwork, and wheels that are diamond turned with tinted lacquer to match the rest of the vehicle's nickel-plated brightwork. even the McLaren Airbrake rear wing is also crafted from solid aluminum and nickel-plated, consistent with its nickel-plated theme. while the interior is largely based on the 12C, it is further spruced up with bespoke Harissa Red McLaren Nappa leather, machined aluminum bezels coated with nickel, titanium weave carbon trim, and finally, Andesite tufted carpet flooring wraps up the interior package. the X-1 is totally road legal and to that note, it shares the same major mechanicals as the 12C, including the 616 horsepower v8 twin-turbo unit. join us for a gallery of this one-off supercar after the break.