hunting in the mountains of Mongolia requires a steadfast transport and usually that would be horses (for Mongolians, i reiterate). however, this pair of businessmen friends decided that the Mercedes-Benz Zetros 6×6 will get the job done more efficiently – probably, the hassle of pitching tents for multi-day hunt and the beating by the elements formed part of the consideration. not one, but two Zetros 6×6 outfitted with special bodies and interior fittings were delivered to Ulan-Bator, Mongolia. one of the Zetros even has a vehicle bay that's sized to fit a Quad Bike.
the vehicle's cab features include a padded sleeping berth for the driver, an air-conditioning system, audio system with CD player and changer, a Bluetooth hands-free system and large 7-inch touchscreen that also connects to the reverse camera. the cab is capable of holding up to 100 kg of load on its roof via a carrier system. special consideration were given for the fittings, installations and materials to withstand the punishment that rough terrains and extreme desert climate can unleash upon the vehicles. extreme care was taken when it comes to insulation for the vehicle. for example, walls, roof and floor are of prefabricated sandwich panels insulated with hard PU foam and bonded together. both the roof and floor has added thickness of 100 mm while the side panels are 50 mm thick. entrance is via the right side of the vehicle, assisted by an integrated steps and grab handles. the windows are double-glazed, openable and fitted with mosquito nets and roller blinds.
the interior is divided into bedroom area at the rear and a living area with seating for a group of four to six people is up front. it also features a luxurious bathroom complete with marble floor and underfloor heating and of course, a gallery to satisfy the hunger while on an expedition trip. when extra sleeping space is needed, the living can be converted to a sleeping area by electrically lowering the table, converting it into a large bed. as for the gallery, it is fully equipped with ceramic hob, microwave with grill, refrigerator/freezer, bar and coffee machine. both hot and cold water are also available onboard. in case the hunters feel like having an alfresco dinning experience (i suppose with their priced hunts), there is a mobile twin-burner gas cookers to handle outdoor cooking.
more reading: An Inside Look At The Custom Mercedes-Benz Zetros Trucks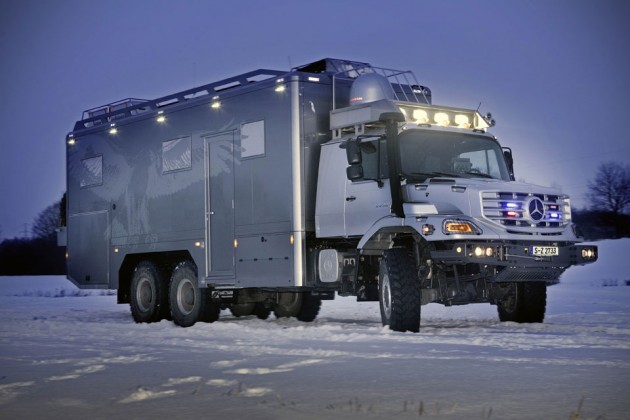 separating the bedroom and the living area is a partition integrated with flatscreen TVs: 40-inch facing the room and a 46-inch facing the living. this special Zetros comes equipped with a safe for stashing the valuables while the hunters are out hunting and being a hunting vehicles, it also features a gun safe to stow the hunting rifles. in case the day turns out to be unfavorable for hunting, the hunters can relax to sound of music via the Bose hi-fi sound system and that's not all. the vehicles are equipped with a SAT receiver with an electrically self-aligning SAT dish, a DVD/CD player, an MP3 player and a Mac Mini plus WLAN router.
the Zetros are powered by a 7.2 liter 6-cylinder in-line engine that puts out 240 kW (326 hp) and an amazing 1300 Nm of torque at a range of between 1200 rpm to 1600 rpm. these permanent six-wheel drive trucks are equipped with three mechanical differential locks as standard. something which is necessary for maneuvering through rough terrains. these two Mercedes-Benz Zetros are converted as per the customer's specifications by body specialist Hartmann in Alsfeld and interior equipment specialist Huenerkopf in Nuekirchen. at the time of this posting, we are not sure how much exactly did these pair of Mongolian businessmen paid for these customized Zetros but reading through, it is safe to assume that it is a price not for the regular folks.