If you haven't already heard, MINI has joined the growing rank of Vision Gran Turismo cars designed specifically for Playstation's Gran Turismo 6 console games. While other automakers tend to straddle towards the extreme (read: unlikely to see in real life other than prototype), MINI has taken a more realistic approach with a Clubman-based racer, aptly dubbed Clubman Vision Gran Turismo. Why a Clubman? We are not entirely sure, but we see it as MINI's subtle effort in drawing attention to next-generation Clubman. Though the Vision Gran Turismo's Clubman still retains the iconic MINI form, it is not without some 'made for race track exaggeration' which includes enormous air inlets, front and rear splitters, a wide track body with flared wheel arches, a surprising subtle roof spoiler, massive 22-inch rolling stocks, and a nod to the brand's glorious rally achievements in the 60s, upright windscreen wipers and black X on its elliptical headlamps.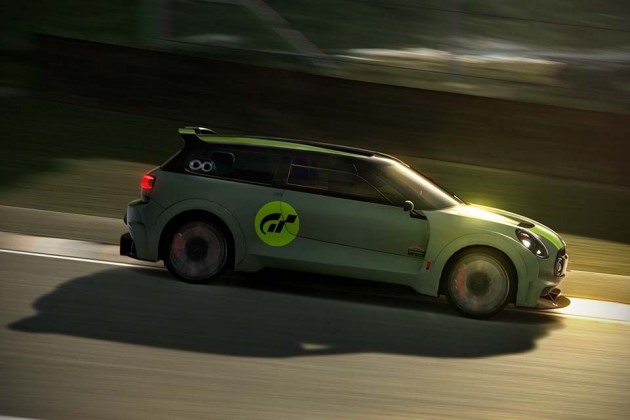 No mention of what virtual powertrain it is fitted with, but whatever is lurking underneath that vented hood, it has 395 horsepower which enables it to, theoretically, rocket from zero to hundred kilometer per hour in just 3.5 seconds, sending on its way to a top speed of up to 290 kph. A sequential 6-speed gearbox with paddle shifter and a permanent all-wheel drive system wraps up the drivetrain package. Other virtual details include fully adjustable dampers all-round, a flat carbon underbody, LED headlamps and taillights, and finally, a few racing elements like snap fasteners on the hood, quick-release filler caps, and a small sliding window completes the racing package.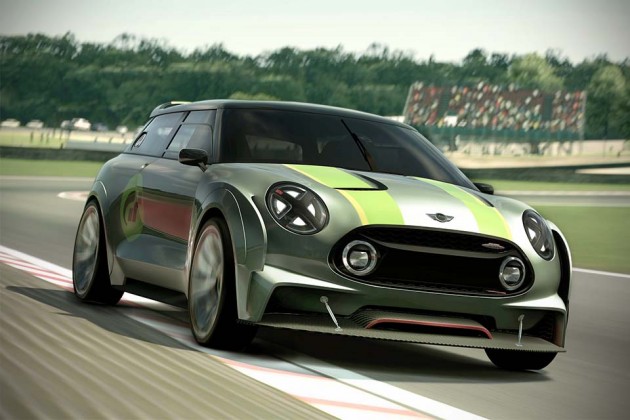 MINI Clubman Vision Gran Turismo is available as part of Gran Turismo update introduced back in February and we have no excuses for posting this a good two months late. How the heck we miss this piece is beyond ourselves, but hey, I am sure you haven't heard about it, right? Anyways, there's no word if MINI will be introducing a Clubman Vision Gran Turismo in all its metal glory like many automakers had done. But we won't surprise if there's one already in the making with hyping up the Clubman launch in mind. Catch a brilliant promo video down below.