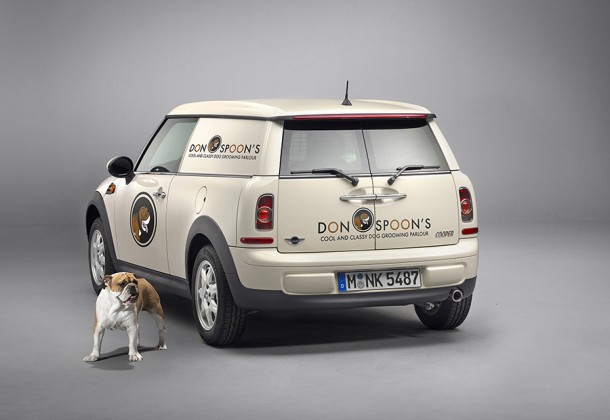 MINI Clubvan | US$tba | www.mini.com
delivery vans were never associated with trendiness and youthfulness, let alone sportiness. the introduction of sleeker and more compact panel vans by European automakers did brought about much life to the otherwise dull and monotonous small commercial van market but by not a lot. however, come this fall, that notion is set change by the one marque that the world love so dearly: the MINI and Clubvan is the vehicle that is going to do just that. based on the MINI Clubman, the Clubvan is going to change the way you look at delivery van. this two-seater commercial vehicle features a closed-off load area that extends from its wide-opening split rear door up to the driver's and passenger's seats. it offers two ways to access the flat cargo area: the rear or from its right-side Clubdoor. three models will be made available: MINI One Clubvan powered by a 98 hp (78 kW) 1.6-liter petrol unit, MINI Cooper Clubvan with a 122 hp (90 kW) petrol engine and the 112 hp (82 kW) diesel variant MINI Cooper D Clubvan.
as a true hallmark to its name, their performances won't be a let down despite being classified as commercial vehicles. the entry level MINI One Clubvan makes a top speed of 185 km/h (115 mph) with a century sprint of 11.1 seconds; the Cooper Clubvan – the livelier of the trio – makes naught from 100 km/h (62 mph) in just 9.8 seconds and on the way to a top speed of 201 km/h (125 mph); while the diesel-powered Cooper D has a 0 – 100 km/h (62 mph) timing of 10.2 seconds and has a top speed of 197 km/h (122.4 mph). regardless of which model you chose, expect to be happy-shifting through its six-speed manual gearbox, though the Cooper D will be offered with an optional six-speed automatic transmission. the cargo hold area features blocked out, opaque rear side windows (body-colored, naturally) and internally reinforced with polycarbonate, rear tinted glass, carpet-trimmed side walls and flat cargo floor, anthracite roof liner that runs the full length of the vehicle, 12-volt sockets for powering electrical equipment and six attachment loops recesses onto the edge of the floor for securing your cargo of varying sizes. a solid aluminum section with stainless steel mesh upper divides the goods from the front occupants, keeping them safe from slamming cargo in the event of hard braking. all told, the Clubvan's cargo area offers a decent 860 liters of storage space.
other standard features include electric power steering, MacPherson strut front suspension, multi-link rear suspension, Auto Start/Stop, Shift Point Display, Brake Energy Regeneration, black interior with Cosmo fabric upholstery and Fine White Silver trim strips, and standard 15-inch wheels with options of up to 17-inch alloy wheels. to sum it up, the Clubvan has the specs and equipment level as you would have expected from any MINI and it is the vehicle that we would love to be in if we were delivery dudes. the MINI Clubvan is due to hit the showrooms this autumn 2012 with prices to be advised. head past the jump for a gallery of the Clubvan.