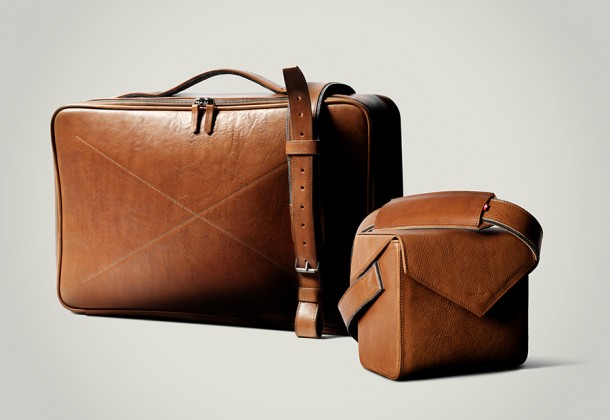 Hard Graft CarryOn Suitcase & Frame1 | from £295.00 | www.hardgraft.com
those who love the beautiful mobile gadget accessories dished out by Hard Graft must also been yearning for the same exquisite style treatment for their other loves such as traveling and photography. well, if those are on your mind then you will be thrilled to know that Hard Graft has your wishes covered. folks, meet Hard Graft CarryOn Suitcase and Frame1 SLR Camera Bag, two beautiful bags crafted in the same awesome Hard Graft tradition to satisfy the style-craving inner you whenever the road calls upon you and whenever you are on your exploratory photography journeys. the materials used in both bags are no stranger to anyone: they are of 100% vegetable tanned leather and 100% wool felt and they combined with Hard Graft's signature craftsmanship to become two seriously stylish bags that will draw even the most demanding style-connoisseur. on the outside, the CarryOn Suitcase reminiscent of the travel bag of the bygone era, complete with a carry handle and an adjustable shoulder strap which you can remove if you choose to. on the inside, a soft wool felt lines the interior, keeping your belong cushy comfy while in transit. a small little zipper pocket, also on the inside, takes care of your smaller items. last but not least, its 52cm x 34cm x 16cm size ensure that you can carry on to showoff this beauty when you board the craft – any craft, it doesn't really matter.
the Frame1 SLR Camera Bag on the other hand, is a perfect companion if your travel plan includes getting hi-quality photographic evidence with your expensive DSLR. it looks like no other camera bag cos' it is, well, crafted from vegetable tanned leather with full and soft leather lining. thick padding makes sure that your camera or lens are nested safely, while a divider keeps your contents from have a brush with each other and a small zip pocket keep makes your ancillary items easier to find. it comes with an adjustable leather shoulder strap detailed with wool felt for both comfort and style. we will be honest with you. we are completely drawn to these leather goods like a moth drawn to soft warm light. the Hard Graft CarryOn Suitcase and Frame1 SLR Camera Bag can be yours to own for £295 and £525 (about US$460 and US$818), respectively. click through for a few more look at this pair of beautiful bags.