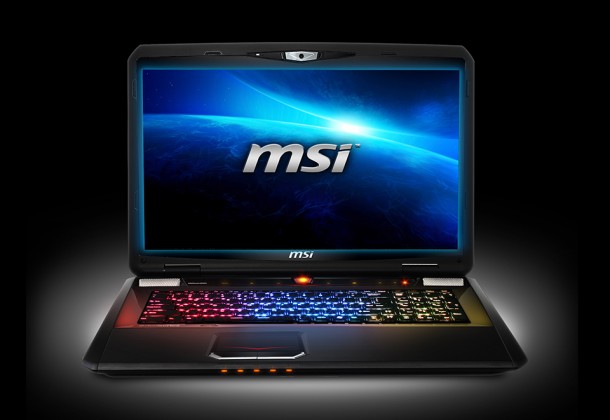 MSI GT70 Gaming Laptop | US$2,599.99 | www.msimobile.com
if you are true PC gaming addict, then you probably want to have a gaming laptop by your side wherever you go cos' handheld gaming device is never an option. it's kind of do or die attitude, if you know what i mean. besides, handhelds don't usually offer titles that PC has. the prerequisites for an on-the-go gaming machine are simple: reasonable portability coupled with the best hardware money can buy for an edge over your competition and the best graphics to give you an immersive game play – all of which are offered with the new updated MSI GT70 Gaming Laptop.
the flagship GT70 ONE-276US is driven by Intel Core i7-3610QM processor and boast a host of features that include a full HD 17.3-inch non-reflective display, NVIDIA GeForce GTX 680M graphics with 4GB memory, 16GB of DDR3 RAM, a combo of storages that comprises of two 128GB SSD and a 750GB HDD, Blu-ray reader/writer, Gold Flashed Audio ports with Headset AMP, three USB 3.0 ports, two USB 2.0 ports, HDMI 1.4, HD 720p webcam, Killer E2200 Game Network, Dynaudio Tech speakers with THX Surround Sound and SteelSeries Programmable Backlit Keyboard. of course, it also comes with the usual raft of WiFi and Bluetooth connectivity, as well as a multi card reader that supports SD 3.0. strangely though, it has a single-touch touchpad instead of the now popular multitouch item.
being a 17-inch laptop, it is natural that it comes with a fair bit of heft and bulk: it measures 16.85″ x 11.34″ x 2.17″ (42.8cm x 28.8cm x 5.5cm) and weighs a hefty 8.6 lbs (3.9 kg), and as for the price, it is not without heft either: each of these laptops will set you back at $2,599. hit the jump for a few more look.