Graphics is not the only factor affecting a gamer's decision on whether to go for a portable or a desktop gaming rig. There is one other thing a desktop has to offer that laptop can't: mechanical keyboard. For ages, desktop PC gamers have been enjoying the goodness brought about by mechanical keyboard, but for laptop users, they are pretty much relegated to what's built into their portable, which obviously ain't no mechanical stuff. Of course, you can always grab a separate mechanical keyboard if you're that hardcore, but what if there is a gaming laptop that comes standard with mechanical keyboard? Sounds like an impossibility? Well, it is not, because that's what MSI is proposing with the upcoming MSI GT80 Titan gaming laptop.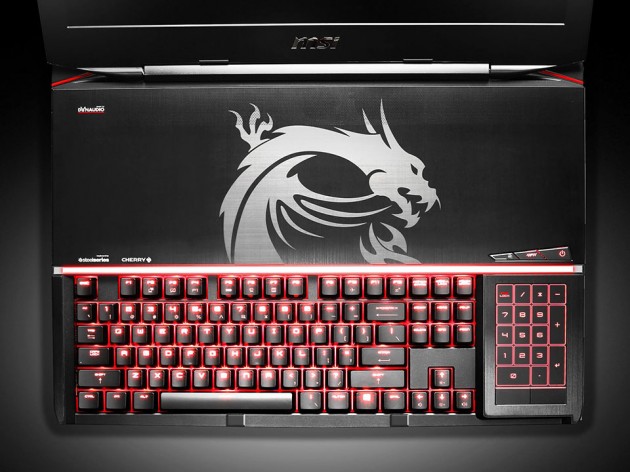 Described as the "future of gaming" (we can't imagine why it is not), this 18-inch gaming beast is outfitted with a SteelSeries gaming keyboard that will deliver the tactile feedback you have missed so dearly from laptops. The SteelSeries keyboard boasts standard Cherry Brown MX switches, complemented by standard keycap with 27mm thickness – which is nearly 5 times thicker than traditional laptop keyboards. As you might have imagined, a mechanical keyboard is bound to take up a little more space and that's perhaps why MSI chose to lend this awesomeness to an 18-inch monster, but despite that, MSI claims that the GT80 Titan is still 17% thinner and 22% lighter than its closer competitor, thus making it world's slimmest and lightest 18-inch gaming laptop.
The GT80 Titan also features an enhanced SteelSeries Engine with CloudSync for saving and synching settings to SteelSeries cloud storage. But, to be honest, the latter is an extra. The real star is the keyboard. In fact, MSI is so eager to let the world know that it has made the announcement without much of other information with regard to the gaming laptop. If you are as eager as we are, then make sure you keep your eyes peeled on MSI GT80 Titan page for more updates.