with 3D printer being all the rage today, it is easy to forget the good'ol, but highly versatile CNC mill machine. that said, if you are in for a machine that will provide you with the flexibility to create, or even to supplement your 3D printer, the Nomad CNC Mill might be a worthy candidate. designed to sit alongside your computer, the Nomad is fully enclosed to contain the mess and minimize noise typical of milling processes. a polycarbornate lid completes the enclosure, letting you witness your project comes to life. depending on where you intend to use the Nomad, it has a choice of two enclosures: bamboo, which is ideal for home or studio and HDPE, suitable for workshop or garage. each Nomad CNC Mill comes with everything you need to start machining right out of the box, including software for Mac and PC, cutters, cables and even a starter pack of material.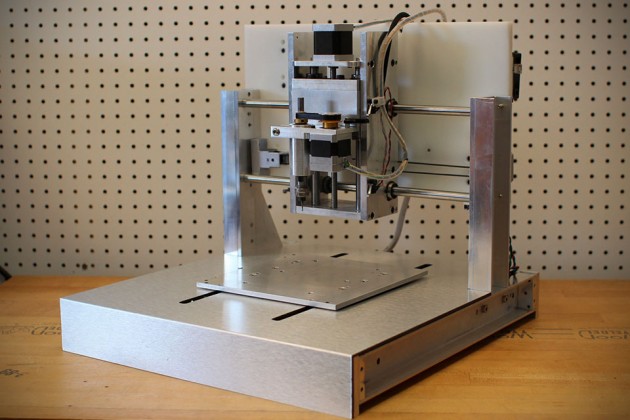 by nature, CNC is not something any layman can handle, but the Nomad simplifies it by automatically taking care of the feed rates, speeds, depth of cut and more. also, unlike commercial CNC machines that has dedicated computer for control, it has an embedded motion controller that allows you use your regular Mac or Windows computer to manage and send routines to the mill. it has a custom designed spindle driven by a brushless DC motor that makes between 2,000 and 12,000 rpm, providing the grunt for cutting through a variety of materials while keeping the ding in check. in fact, its maker, Carbide3D, said that with the lid down, light passes on wood is quieter than some commercial-grade 3D printer available. though bundled with its own software, it can read gcode output from just about any CAM program.
just days into its Kickstarter campaign, the Nomad CNC Mill is already over 400% percent funded, which not only proves that traditional CNC mill has not been forgotten, but it is very much in demand. bargain deals for early backers have mostly been spoken for, but you can still score one at $1,899 (there are 20 units left at the time of this writing). if the ship has sailed for that too, you will still be able to pre-order one at $1,999 right up to end of May. unfortunately, this item is restricted to U.S. buyers only for obvious reason.