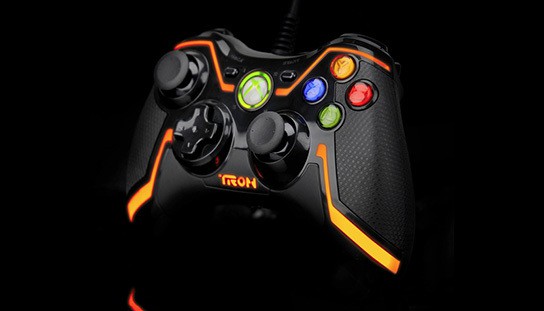 (image credit: PDP) Limited Edition XBOX 360 TRON Controller | US$49.99 | www.pdp.com
this is insane. the TRON fever has reached an incredible proportion. seriously, tell me what else isn't TRON inspired now? you have everything ranging from replica Lightcycle bike to gaming mouse to headphones and now, console game controllers. this particular item is from Performance Designed Products or PDP for short. the Limited Edition XBOX 360 TRON Controller is a web exclusive and it's only available from PDP.
the controller is laced with light-up orange accents over the shiny black body which departs from the typical and commonly seen, blue accented TRON items. only 250 pieces of this Official Licensed product will be made and probably a must-have for die-hard TRON fans, especially fans of Clu. unfortunately, it is sold-out at time of this posting… which we weren't surprised a bit. what do you expect when it has just 250 pieces and cost only $50? answer: SOLD OUT in a flash.
there is also a TRON Xbox 360 collector's edition in blue accents on black. there are also TRON item for Wii and PS3 users too. however, according to our understanding, both the blue accent Xbox controller and the PS3 item are sold out too. tough luck if you didn't discover this sooner.
via CRAVE