if you really think about, there aren't really any hatchbacks that would make you go "wow" the instant you set eyes on them, well… at least not without a decent amount of body mods… until now. meet the Peugeot Exalt Hybrid Concept, a five-door hatch that we truly and uncontrollably let out a "wow" the moment we saw the concept image. i am sure you will concur with our statement, if not you probably won't give a damn about this article. no? we have seen a number of crazy concepts from the French automaker, but we think this is the one with the "wow" factor and still looks like a plausible road-going car in (probably) not too distant future.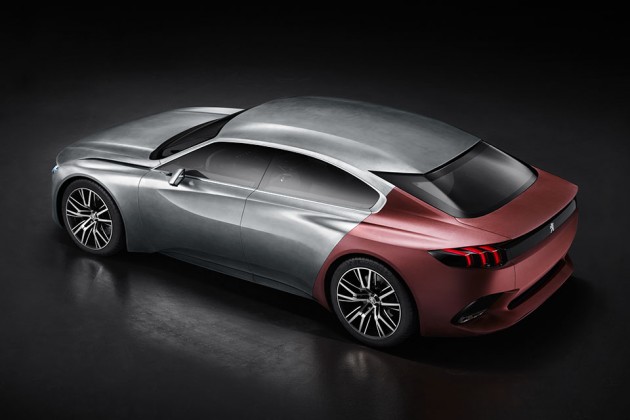 adopting a two-door coupe form with a wide stance and pronounced wheel arches, coupled with a shell finished in a combination of bare metal and a sharkskin textile (it helps in improving the drag coefficient, or so we read), the Exalt only speaks one thing: aggressiveness and it has the right asset under the hood to prove the point. beneath its sculptured, long bonnet lies a petrol variant of the plug-in HYbrid4 drivetrain comprising of a 1.6-liter turbo IC unit serving up 270 hp to the front wheels, while a 50 kW electric motor coaxes the rear wheels and as always, regenerative braking is in place to put back some electrons into the battery. all told, the HYbrid4 drivetrain offers up to 340 ponies of power to hustle just 1,700 kg (3,750 lbs) of beauty.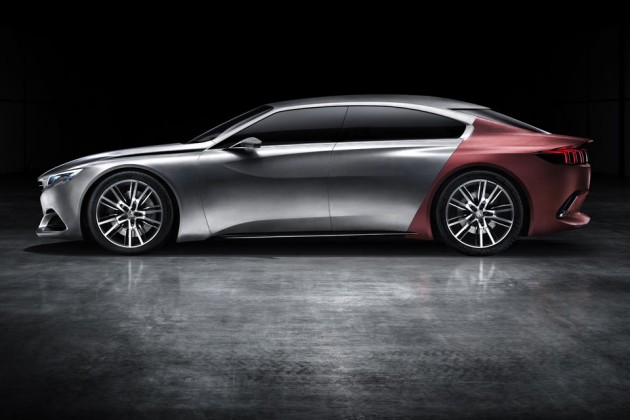 we would very much like to hear its basic performance figures, but that will have to wait – probably, just probably, something will be heard when it makes its official debut at the 2014 Beijing International Automotive Exhibition. back to the design aspect, it speaks the language which is in essence, 'to be simple' and hence the bare metal look, which is carried into the cabin and joined by a mix of warm toned wood, natural wool-based 'chine' mixed fabric, carbon fiber, black ebony wood and a special sharkskin textile material. well, that's about as much as we know about this bare beast (not really, but the PR text really makes us cringe with its marketing-infused mambo jambos), but really don't quite care to dig any more deeper cos' all we want to say is: won't you build the damn thing, already Peugeot?