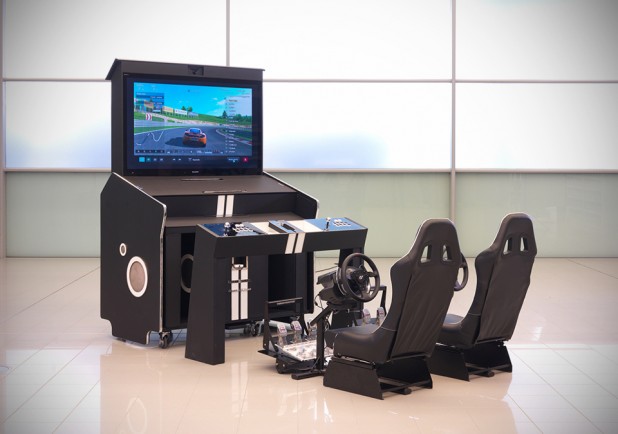 Pinel & Pinel Arcade PS Trunk | US$90,000.00 | www.neimanmarcus.com
why put down your money for a racing-only simulator when you can get one arcade system that let you enjoy a range of console game genres spanning from first person shooter to racing game to karaoke sing-off? the Pinel & Pinel Arcade PS Trunk is the machine that will let you do all those. custom-made in the Pinel & Pinel Parisian workshop, this ultimate gaming rig is wrapped in calfskin in your choice of 51 colors and features nickeled and palladium massive brass hardware. features of this multi-genre gaming system setup includes a Playstation 3 gaming system, two Formula 1 racing seats with Thrustmaster T500 RS Force Wheel and Pedal Set, two banquettes for storing the pair of Formula 1 seats, four Playstation Move motion controllers, four Playstation Move navigation controllers, four DualShock 3 controllers, two Playstation Move sharp shooter guns, four Playstation 3 wireless buzzers, two arcade fighting sticks, a Playstation Eye camera, two SingStar 3 microphones, a selection of 24 Playstation 3 games, a 55-inch Sony 3D LED HDTV with four pairs of 3D glasses, Blu-ray remote control (for PS3), and a 1,800-watt Bluetooth wireless sound system. adding to the exclusivity, only 15 of these will be made.
the $90,000 Pinel & Pinel Arcade PS Trunk is one of the (very) big ticket item listed on the 86th edition of the Neiman Marcus Christmas Book, along side with other ridiculously expensive fantasy gifts such as the 2013 Neiman Marcus Edition McLaren 12C Spider, Jetlev R200, Bulleit Woody Tailgate Trailer, and even a Heritage Hen Mini Farm – just to name a few. of course, there also other carefully curated gifts that are more affordable for mortals like us. you can learn more about the 86th edition of the Neiman Marcus Christmas Book HERE or hit the jump for a quick (and almost silent) video intro of the fantasy gifts in this year's Neiman Marcus Christmas Book.